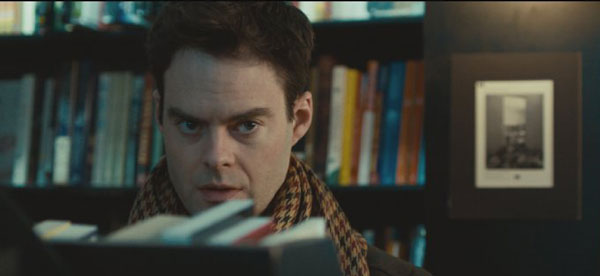 Saturday Night Live fans are in for a treat this fall when two former cast members join forces on the big screen. The Skeleton Twins, starring Kristen Wiig and Bill Hader, won the Waldo Salt Screenwriting Prize at Sundance Film Festival in January.
The story revolves around two siblings dealing with depression after growing up with a father who suffered from the same issues and eventually took his own life. Hader talked to The New York Times about their latest project together.
Hader shared how the two wound up coming together on the big screen. He said, "I'd wanted to do a drama for a very long time, and I was sent the script in 2010. I met with [writer-director] Craig [Johnson], we hit it off, and that began two years of emails: We've got the money; we don't have the money. Then Craig called me up with the idea of Kristen playing Maggie, the sister."
The 36-year-old actor explained how they got Wiig involved, "I've been in that position where friends will call me: 'Hey, I don't want to pressure you.' I always feel pressured. So I remember consciously, purposely, saying, 'I'm staying out of it.' Kristen called me up saying: 'I love this. I'll do it, but only if you'll have me.' Like, are you joking?"
Hader was doing double-duty while filming the role because he was still on SNL, but it wasn't a bad thing.
He said, " I was doing this movie while I was still on SNL. It is just a great place to be performing every day. You're building up those muscles, and you don't overthink stuff. You start to trust yourself more."
Wiig had done dramatic roles at this point, but it was a big shift for Hader who had only been seen in comedies so far. The anticipation was a little nerve-wracking.
"I was totally fine, and then the morning of the Sundance screening, I woke up and wondered, 'What if people don't accept me as an actor in this way?' At the screening, I got a little applause, and my wife started crying, because she knew how nervous I was," Hader revealed.
In reality, the comedian had nothing to worry about since Wiig was supportive through every step of the process.
"Having worked together really helped me personally, because I was able to be vulnerable around Kristen," he said. "It was a new kind of part for me, and it was nice being there with someone you knew had your back and who you could fail in front of."
The Skeleton Twins open on Sept. 12.