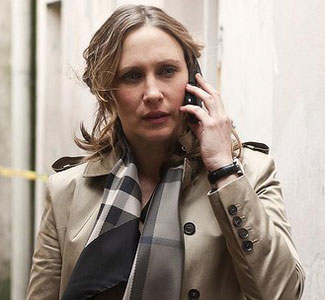 An Oscar®-nominated and award-winning actress, Vera Farmiga continues to capŧivate aud­ iences with her ability to embody each of her diverse and engaging roles.
Farmiga was most re­cently seen in three films: Sony Pictures Classics' Higher Ground, a feature film which she also directed and which was in competition at the 2011 Sundance Film Festival and the Tribeca Film Festival; Duncan Jones' Source Code, opposite Jake Gyllenhaal and Michelle Monaghan; and Malcolm Venville's Henry's Crime, opposite Keanu Reeves and James Caan. Farmiga also garnered a nomination at the 2011 Gotham Awards for Breakthrough Director. She recently wrapped production on Christopher Neil's Goats, co-starring David Duchovny.
Farmiga received critical praise and nominations, including Academy Award®, BAFTA, Broadcast Film Critics Association, Screen Actors Guild and Golden Globe award nominations, for her role in Jason Reitman's Up in the Air, opposite George Clooney. 
Her recent film credits include the dark thriller Orphan, opposite Peter Sarsgaard; Niki Caro's The Vintner's Luck; Carlos Brooks' Quid Pro Quo; Miramax's Holocaust drama The Boy in the Striped Pajamas; and Rod Lurie's political drama Nothing But the Truth, for which she earned a nomination for a Broadcast Film Critics Association award for Best Supporting Actress. For her performance in The Boy in the Striped Pajamas, she was awarded the Best Actress Award from the British Independent Film Awards.
Farmiga won a Los Angeles Film Critics Association award for Best Actress for her performance in the independent film Down to the Bone, a revelatory drama about a weary working-class mother trapped by drug addiction. She also won Best Actress awards from the Sundance Film Festival and the Marrakech International Film Festival, and earned a Film Independent Spirit Award nomination for the role.
Her additional film credits include Martin Scorsese's Oscar®-winning police drama The Departed, opposite Matt Damon, Leonardo DiCaprio and Jack Nicholson; Anthony Minghella's Breaking and Entering, opposite Jude Law; Jonathan Demme's The Manchurian Candidate, opposite Denzel Washington; Joshua, opposite Sam Rockwell; and Never Forever, opposite Jung-woo Ha and David Lee McInnis.
Biography courtesy of Universal Studios in conjunction with the film, Safe House.