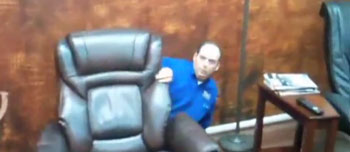 An auto store in Virginia was in the middle of filming a commercial when the 5.9 magnitude earthquake hit this past Tuesday, catching it all on video. 
The store is located in Chantilly, VA which is around 85 miles away from the epicenter of Mineral, VA.
If that were me on camera, I can tell you that they would not have been able to broadcast the audio portion of the video. There would have been F-bombs a-plenty… and I would possibly pee myself.