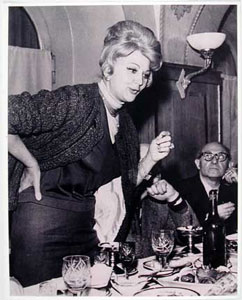 This is the second of a three-part series from Stella Adler's first biography, Stella! Mother of Modern Acting (May 2014, Applause Theatre and Cinema Books). Read the first part here. 
Written by Sheana Ochoa
Few people realize how young acting is as an art form compared to music, literature, and painting. By the time the father of modern acting craft, Constantin Stanislavski, had begun developing a systematic approach toward performance, the profession had barely evolved since its Greco-Roman histrionics of grand gestures, masks, and loud vocal bouts in order to reach the gods. Being the only American teacher to have studied with Stanislavski, Stella would synthesize the master's system with her own experience growing up on the Yiddish stage under the tutelage of her parents. But when she agreed to join the Group Theatre—the Depression-era theater company that focused on socially conscious plays—Stella was young and willing enough to follow the Group's director, Lee Strasberg, even though she didn't agree with his methods.
Below is an excerpt from Stella! Mother of Modern Acting during the Group Theatre's first summer of rehearsals in 1931, describing the notorious debate between Adler and Strasberg that has become the most disputed polemic in modern acting. – Sheana Ochoa
Adler vs. Strasberg: An Age-Old Debate
The argument over whether an actor should use real emotion or acquire an external technique to play a character is an age-old debate. Prior to Stanislavski, little had been written about how an actor develops a role. The director Jack Garfein points out in his book Life and Acting: Techniques for the Actor:
Up until the time of Stanislavski's published work and V. I. Pudovkin's Film Acting and Technique, there existed only two well-known books on the subject—one by Francois Delsarte filled with illustrative clichés ("Put your hand on your heart to show love") and a philosophical one by Diderot, The Paradox of Acting. In his book, Diderot is trying to comprehend the nature of the actor's emotions on stage and the ones he experiences in actuality. He is unable to differentiate.[i]
The first summer at Brookfield, however, Stella was years away from developing her own technique. Like her fellow actors, she tried her best to follow Strasberg's direction, but she was finding affective memory a troublesome mandate. She had grown up researching her character, his or her historical period and every detail therein down to the selection of costume and makeup, which was all carefully thought out so that when she was onstage she was free to inhabit the character. It was distracting to simultaneously experience the character and also focus on a personal memory that in her mind had no relevance to her character. Later she observed, "You couldn't be on stage thinking of your own personal life. It was just schizophrenic."[ii]
Stella had a point, which Strasberg himself brought home in class years later by explaining how the actor must
"face the problem of bringing it [affective memory] into the scene he is playing. He must fuse his personal emotion with the character and event he is portraying. For example, when the actor's partner is speaking, he listens and answers naturally, but at the same time [author's italics] he tries to concentrate on the objects of his own event and thus to fuse his material with the author's. . . . In the Group Theatre, where we worked with affective memory in production, we would set a definite amount of time. We would allow the actor a minute before the emotion was needed to carry out the affective memory."[iii]
Throughout the sweltering summer, the idealism that accompanies youth and experimentation ambled through the grounds with the country breeze. When spirits grew restless, when affective memory exercises, listening to the Victrola, swimming, playing tennis, and loafing around in pajamas grew monotonous, some of the actors asked to return to the city for a night on the town. Wary of any desire for "a world outside the group,"[iv] Clurman felt disheartened by these requests. He wanted the actors to cherish their limited time at Brookfield, knowing how quickly their summer would come to an end.[v]
Within this idyllic atmosphere romances abounded, some stable, others, like Harold and Stella's, stormy. Morris Carnovsky and Phoebe Brand roomed together and would later marry, as did Strasberg and Paula Miller. Others, such as the young recruit Clifford Odets, would mail daily love letters to Eunice Stoddard, whose bungalow was walking distance from his, but she never answered his missives. Luther Adler made the trip to the country to partake in the amorous possibilities.
Tall and fair, with chiseled facial features as opposed to Stella's soft ones, Luther had recently turned twenty-eight. He was as charming as Stella was charismatic, both having inherited Jacob's sex appeal. Luther felt as disturbed as Stella by the lack of artistic integrity on Broadway compared to the Yiddish theater. Clurman's collective seemed an attractive alternative.
Predictably, cliques formed among the twenty-eight actors. Bobby Lewis—the youngest thespian of the group—and Sanford Meisner gravitated toward Stella and Harold. In the evenings, while Odets repeatedly played an E-minor chord on the piano and Franchot Tone played chess, Stella would tell stories about the Yiddish theater. Finally giving up on Eunice Stoddard, Odets began setting his sights on a different girl every week, most of whom steered clear of him. One night, he proceeded to throw a billiard ball at Margaret Barker's door—behind which she was securely ensconced. The racket was numbing. Finally, Stella bellowed, "Clifford, if you don't turn out to be a genius, I'll never speak to you again."[vi]
In an interview in 1966, Stella succinctly stated why she did not use affective memory with her students: "A student is encouraged to respect his creative, imaginative life as a source for his acting craft. To go back to a feeling or emotion of one's own experience I believe to be unhealthy. It tends to separate you from the play, from the action of the play, from the circumstances of the play, and from the author's intention. All this has to be embodied in the action."[vii] Equally important, Stella stressed, was knowing the cultural and political circumstances of the characters and their setting.
While teaching The Glass Menagerie, Stella would tell the actors in the scene to "create the room." She would say, "Are the drapes torn? Whose picture is on the wall? Washington? Put something there that's very American. What kind of view does she have? A fire escape. What's on the other fire escapes? The key is 'drab'—not just the room, the life. It's lower-middle-class life. The Gentleman Caller is not of exactly that same class. Know the difference in their larger circumstances."[viii] Then with Stella's finesse of mixing pedagogy and humor, she would prod: "C'mon, get going! You can't be stupid if you're a modern actor. You have to be sharp. You don't have to be so intelligent in Shakespeare. He's a giant, so he carries you—if you speak ever so precisely and have lots of good teeth."[ix]
For someone as "emotionally fluent" as Stella,[x] using psychological exercises to create emotion was akin to a typist concentrating on each keystroke even after having memorized the keyboard. The natural flow of typing would be hindered, just as thinking about emotion tripped Stella up. She would rather experience the emotion by doing. A correlative conjecture could be applied to Strasberg, who was notoriously aloof and unapproachable. Delving inward to unleash what is sublimated may be useful for such a personality.
Strasberg was a perfectionist. He worked tirelessly to make every movement in a scene matter. No one questioned his authority. Egos could not be tolerated; actors unwilling to listen were unacceptable. "Lee was a God to us," Phoebe Brand remembered. "We truly admired him. We wanted to do what he wanted even if we didn't always understand."[xi] By the middle of the summer the actors began calling him Dr. Strasberg. He kept strict rules where he worked; the barn was deemed a sacred place. Anyone caught smoking or reading a magazine during rehearsal was subject to Strasberg's explosive temper. During one rehearsal, Strasberg directed Morris Carnovsky in a scene in which he had to climb atop a table and raise a glass. Frustrated with repeatedly climbing up onto the table, Carnovsky finally retaliated by throwing his glass down. The room stilled to silence, and Strasberg exploded. "You! You are committing a central crime against the whole spirit of the group. We are aiming to form a collective theater here. For anyone to transgress is a crime."[xii]
Between Crawford's pragmatism and Strasberg's despotism, Clurman remained the voice of inspiration, with his fervent theatrical ideology. The company had the responsibility of studying and working together on a theater that addressed the sociopolitical milieu of the Depression. Within this microcosm there would be no stars. Everyone would have equal billing and equal work on a project, which meant that if you were the lead in a play one season, you might serve as a stagehand the next. The democratic ideals were nice in theory for Stella, but she preferred playing lead roles. From the beginning, this sense of entitlement, coupled with her aristocratic temperament, aggravated her relationship with the company. As in her childhood, she struggled to integrate.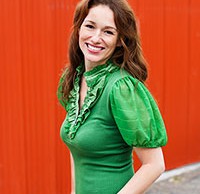 Sheana Ochoa received a Masters in Professional Writing at the University of Southern California. She has published widely in such outlets as Salon, CNN.com and the Los Angeles Review of Book's affiliate, The Levantine Review.Ms. Ochoa inaugurated the One-Act Play festival at the Stella Adler Academy where she directed her one-act play, The Masterpiece. In 2012, she became a founding member of Freedom Theater West, co-producing their premier production. Her revival of "Haorld & Stella: Love Letters" won Pick of Fringe at the 2014 Hollywood Fringe Festival. Stella! Mother of Modern Acting is Ochoa's first book.
[i] Jack Garfein, Life and Acting: Techniques for the Actor (Evanston, IL: Northwestern University Press, 2010), 67.
[ii] Chinoy, "Reunion: A Self-Portrait of the Group," 508.
[iii] Hethmon, Strasberg at the Actors Studio, 111.
[iv] Smith, Real Life Drama, 45.
[v] Ibid.
[vi] Robert Lewis, Slings and Arrows: Theatre in My Live (New York: Stein & Day, 1984), 44.
[vii] Paul Gray, "The Reality of Doing: Interviews with Vera Soloviova, Stella Adler, and Sanford Meisner," in Stanislavski and America, ed. Erika Munk (New York: Hill & Wang, 1966), 217.
[viii] Stella Adler, On America's Master Playwrights, 230.
[ix] Ibid.
[x] Chinoy, "Reunion: A Self-Portrait of the Group," 508.
[xi] Adams, Lee Strasberg, 123.
[xii] Ibid., 124.