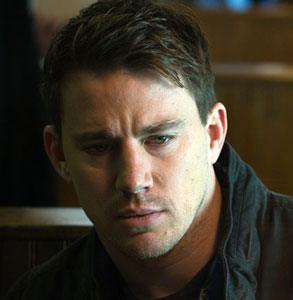 Channing Tatum is a talented young actor who has captured the attention of fans and critics alike. His breakthrough role came in 2006 when he received an Independent Spirit Award nomination and a Gotham Award nomination for his powerful role in the independent film A Guide to Recognizing Your Saints, which won the Special Jury Prize for Best Ensemble Performance at the 2006 Sundance Film Festival. Written and directed by Dito Montiel, who also won a directing award at Sundance, this powerful coming-of-age drama was based on Montiel's 2003 memoir of the same title.
The actor was recently seen in the epic Roman adventure The Eagle, directed by Academy Award winner Kevin Macdonald, co-starring Jamie Bell and Donald Sutherland; and the romance Dear John, opposite Amanda Seyfried, for director Lasse Hallström. Tatum also starred in the action hit G.I. Joe: The Rise of Cobra, directed by Stephen Sommers and co-starring Sienna Miller, Joseph Gordon-Levitt and Dennis Quaid.
Other film credits include Dito Montiel's Fighting, opposite Terrence Howard; Kimberly Peirce's Stop-Loss, with Abbie Cornish; Andy Fickman's She's the Man, with Amanda Bynes; and Anne Fletcher's Step Up. 

Tatum was born in Alabama and raised in Florida. At age 20, his first paying job was as one of the lead dancers in the Ricky Martin video for "She Bangs." He then moved to Miami and was discovered by a modeling scout. Soon thereafter, Tatum shot his first fashion feature, with Bruce Weber, for Vogue. He then landed campaigns for Abercrombie & Fitch, Nautica, Gap, Dolce & Gabbana, Emporio Armani and Aeropostale. At age 23, he starred in a Pepsi commercial for acclaimed director Tarsem Singh and two popular Mountain Dew commercials directed by Kinka Usher. Tatum was then signed by a talent agency and started taking acting classes with Harold Guskin and at the Dena Levy Acting Studio.
In 2004, he had his first guest appearance on a television show with a role on "CSI: Miami." In 2005, he starred in the features Havoc, opposite Anne Hathaway and Joseph Gordon Levitt, and Coach Carter, with Samuel L. Jackson. That same year, he starred as motocross superstar Rowdy Sparks in Supercross.
Tatum currently resides in Los Angeles.
Biography courtesy of Relativity Media. Haywire opens on January 19th.