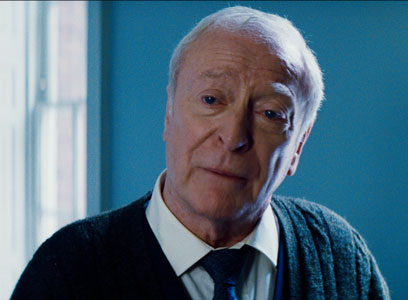 Michael Caine, a two-time Academy Award® winner, has appeared in more than 100 films in a career spanning over half a century.
He first played the role of Bruce Wayne's loyal butler, Alfred, in the 2005 hit, Batman Begins, which also marked his first collaboration with director Christopher Nolan. He returned to the part in the 2008 blockbuster The Dark Knight. The Dark Knight Rises marks Caine's fifth collaboration with Nolan. He has also acted under Nolan's direction in The Prestige, for which he won a London Film Critics' Circle Award for Best Supporting Actor, and 2010's most talked-about film, Inception.
Caine's upcoming films include Louis Leterrier's thriller Now You See Me, with Morgan Freeman, and Mr. Morgan's Last Love, based on the novel La Douceur Assassine by Françoise Dorner, in which he plays the title role under the direction of Sandra Nettelbeck.
Caine won his first Oscar®, for Best Supporting Actor, for his work in Woody Allen's Hannah and Her Sisters, for which he also received Golden Globe and BAFTA Award nominations. He took home his second Best Supporting Actor Oscar® for his role in Lasse Hallström's The Cider House Rules, also winning a Screen Actors Guild Award® and earning Golden Globe and BAFTA Award nominations.
He has garnered four more Oscar® nominations for Best Actor, the first coming in 1966 for the title role in Alfie, for which he also received a Golden Globe nomination and a New York Film Critics Award. He earned his second Oscar® nod, in addition to a Golden Globe nomination and an Evening Standard Award, for the part of Milo Tindle in 1972's Sleuth, opposite Laurence Olivier. His role in Educating Rita brought him his third Oscar® nomination, as well as Golden Globe and BAFTA Awards. He gained his latest Oscar®, Golden Globe and BAFTA Award nominations for his work in 2002's The Quiet American, for which he also won a London Film Critics' Circle Award. In addition, Caine won Golden Globe and London Film Critics' Circle Awards and received a BAFTA Award nomination, all for Best Supporting Actor, for Little Voice.
Caine was born Maurice Micklewhite in South London in 1933 and developed an interest in acting at an early age. Upon his discharge from the Queen's Royal Regiment and Royal Fusiliers in 1953, he began pursuing his career. Taking his stage name from the title The Caine Mutiny, he toured Britain in a variety of plays and began appearing in British films and television shows.
In 1964, Caine landed his first major film role as Lieutenant Gonville Bromhead in Zulu. The following year, he starred in the hit thriller The Ipcress File, earning his first of 37 BAFTA Award nominations for his portrayal of secret agent Harry Palmer.
However, it was his Oscar®-nominated performance in the seminal `60s film Alfie that catapulted Caine to international stardom. He went on to star in eleven more films during the late `60s, including The Ipcress File sequels, Funeral in Berlin and Billion Dollar Brain; Gambit, earning a Golden Globe nomination; Hurry Sundown; Woman Times Seven; Deadfall; The Magus; The Italian Job; and Battle of Britain.
Over the next two decades, Caine had diverse roles in more than 40 films, including Robert Aldrich's Too Late the Hero; X, Y and Zee, opposite Elizabeth Taylor; John Huston's The Man Who Would Be King; Harry and Walter Go to New York; Richard Attenborough's A Bridge Too Far; the Neil Simon comedy California Suite; Brian De Palma's Dressed to Kill; John Huston's Victory; Sidney Lumet's Deathtrap; Stanley Donen's Blame It on Rio; John Frankenheimer's The Holcroft Covenant; Neil Jordan's Mona Lisa; and Dirty Rotten Scoundrels, for which he received a Golden Globe nomination.
Continuing to work almost non-stop, Caine has since starred in such films as Blood and Wine, Quills, Miss Congeniality, Austin Powers in Goldmember, The Weather Man, Children of Men, and Harry Brown, in the title role. His most recent films include Journey 2: The Mysterious Island, and he also lent his voice to the animated features Cars 2 and Gnomeo & Juliet.
Apart from his work onscreen, Caine wrote an autobiography entitled What's It All About?, as well as Acting on Film, a book based on a series of lectures he gave on BBC Television. His latest memoir, The Elephant to Hollywood, was published in 2010 by Henry Holt and Co. in the United States.
In the 1992 Queen's Birthday Honours, Caine was awarded the Commander of the Order of the British Empire (C.B.E.). Eight years later, he received his knighthood.