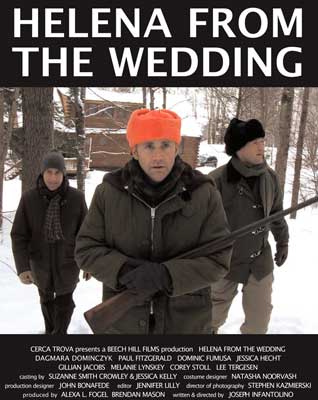 The film, Helena From The Wedding, is writer/director Joseph Infantolino's feature film debut.  It stars Lee Tergensen, Paul Fitzgerald, Gillian Jacobs (from NBC's Community) and the always incredible Melanie Lynskey.
I got a chance to talk to Joseph and stars Lee and Paul at this years SXSW.
Both Lee and Paul have resumes a mile long. You've seen Lee in everything from Point Break, Waynes World to HBO's Oz and Generation Kill. Paul has been a guest star on shows like The Mentalist, Fringe and Medium.
The film is about newlyweds (Lee and Melanie Lynskey) as they begin to question their relationship at the same time they host their friends in a remote cabin over New Year's weekend.
For a first time director, Joseph has done a remarkable job. The acting is so natural that it looks like someone from the cast shot it over a weekend getaway and edited it together.
See it for that reason alone.
So first of all tell me about your characters.
Paul Fitzgerald: Nick is a guy who's having a bad moment in life. A lot of things are falling apart around him in his life. I imagine him as a bit of the middle child in his group of friends. Alex (Lee Tergensen) is sort of the central organizing guy in his group of friends, but Nick ends up as the middle child that goes back and forth between the parties and has to put on a happy face. Ultimately, it seems like he's trying to untangle his own situation via everyone else's, avoiding and/or untangling his own situation by applying what's going on with everyone else. A fantastic character to play and a dream job all around.
Lee Tergensen: Alex is a guy who is recently married, and who has just had an abysmal failure with a play he's written. What I think has happened is the stress from the play has put stress on his new marriage, and there's some sort of doubt about it. He's just not feeling comfortable in his life, he's feeling like everything is wrong. Maybe he's in the wrong place. And then this girl that he's met, Helena, shows up with a couple who come to the house for the weekend and all of a sudden he starts to fill her with his hopes and dreams. (Laughter). She definitely takes his attention. And it's like anything, drinking, drugs, sex, anything that will get you out of yourself seems like a good idea. And so he can focus on her and he's let the relationship go with his wife, temporarily.
Paul: (Laughter) So, he's a great guy,
Lee: Yes. I was just told by some woman that she hated my character. She said she hated my character! And I guess I sort of understand. Cause I'm so obsessed when [Helena] first gets there, I'm trying to look at her. And then I go with the binoculars. Those things to me seem so funny, yet so real. I mean how many times have I done something just so I could check out somebody's a—?
Yeah, that's why I wear sunglasses all the time. (Laughter)
Paul: Totally (Laughter)
So Joseph, how do you go about casting these guys? When they walked in the room did you know immediately?
Joseph Infantolino: Yeah, I think you have a pretty good idea. Pau, he came in and read and we brought him back to read again and we knew we wanted him for something, Then it became clear that he was Nick. And Lee I had known for awhile, but just for whatever reason didn't make the connection, so he never did audition. And after 5 weeks of looking for Alex, Alexa [Fogel – the casting director] said you should meet Lee Tergensen for the role. And he came in, and as soon as I saw him and talked to him for 10 minutes, there wasn't even the need to have him read, and he didn't.
How did you guys go about approaching your roles?
Lee: It was interesting. We rehearsed Dominic, Paul and I at Alexa's house. It was funny, when Paul and I met, instantly we had this connection. It felt right. We got each other's sense of humor. As we went on and we met people and got on the set, and started hanging out with people … I'm no stranger to the character of the man who's not sure if he's in the right relationship. (Laughter) So I had a lot to pull from in my f—ed up love life.
Paul: I don't think I've ever done a movie that was such a true ensemble piece in that my experience was that the character, like Lee was saying, grew for me a lot out of the relationship with him because that relationship is central to my character. And then oddly enough, and I think this is just part of serendipity or the genius of the casting, but somehow we had a very short shoot. Everyone is housed in the same little waiting area, no one is off separated in trailers, so everyone spent a lot of time together very quickly. It sounds corny, but everyone became their character or had some aspect of their personality that was so like their character. You start relating to people in a way that informs your character and the next thing you know you're rolling. I found the character through my relationships with the other characters, primarily with because we hit it off.
Lee: I also have to say, Melanie Lynskey, she and I had an instant connection. One of the truly profound relationships I've ever had on film was working with her. It was incredible. I have to say, it's rare when you work with somebody who's such a fantastic actress. I trusted her and we worked well together.
Joseph: Preparation-wise, we didn't really… we did one read for an hour.
Yeah, I was going to ask about rehearsals.
Joseph: No rehearsals, not even a lot of discussion. I wanted these guys to do their own thing, and trusted they'd do their own thing, and they did their own thing. Beyond memorizing their lines, just really figuring out who their character was.
It looked like everybody had known each other for years.
Paul: It was remarkable to me. The fact that I never felt rushed. It was a 12 day shoot and you can't make a movie in less time than that. And yet, this is a movie that is expansive and there is so much space in it. And when I watch it, it looks like we had all the time in the world to make this thing.
Lee: But you know what really helped too, the character stuff and the feeling that there's all that history, is that there's isn't a lot of exposition in it. There's no character explaining. The script feels like these people know each other really well.
Some advice for actors, young actors coming up, any tidbits of information?
Lee: Well, two things. I always suggest to young actors to take a Meisner class. That is an incredible way to learn how to listen and how to respond. I had a funny moment the first time I got cast in a movie called Point Break. I was terrified, because I had done a bunch of plays in New York and that was about it. I did a couple days on Ryans Hope, and some stupid movie in Montreal. But on my way to work I was terrified. I was like, "F—, what if I can't hack it? What's gonna happen? This is a big budget movie, and I might be a charlatan." Then I got on set, and people didn't know their lines and everything was running behind, and I was like, you know what, I don't need to worry about it, I'm fine. (Laughter) So, I would say, If it's what you love to do—this is something my brother said to me when I was really young, when I was going through "oh f—, what am I doing"—if you love it you'll do it, no matter what. I had to wait on tables for a long time, and do plays with my friends that I didn't make any money at, that only friends came to see. But if it's what you love there's nothing like it.
Paul: What he said. (Laughter)