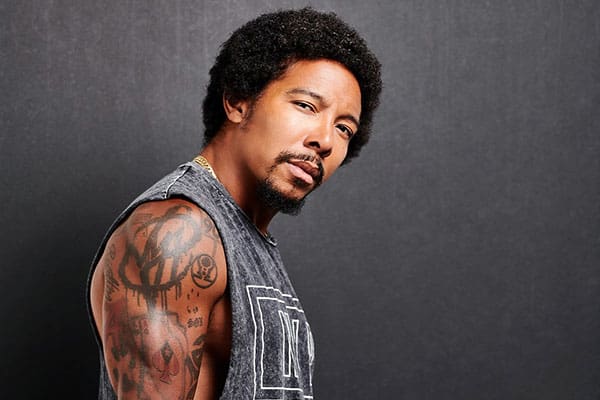 "Dissecting the script is my most important path because it's not the word as much as trying to understand the character and their purpose within the scene." – Allen Maldonado
Allen Maldonado has been working so hard these past few years, as a writer (Survivors Remorse) and acting on The Last O.G., Black-ish and most recently on Netflix's Project Power and Sneakerheads, that when the pandemic hit, he finally got a chance to sit back and relax. Well, "reassess" as he called it. It gave him time to "figure out new things that I want to do and not be distracted" from well, working so much.
His new series, Sneakerheads, has Maldonado as a stay-at-home dad and former sneakerhead. After he falls for an old friends get-rich-quick scheme, he recruits a group of fellow sneakerheads to help get his money back before his wife finds out.
In this interview, Maldonado chats about being an actor and how hard work pays off, why he created a business plan early on in his career, Project Power, Sneakerheads and his worst audition!
How is this crazy time treating you?
Allen Maldonado: It's been great for me. It's been great in the sense of being able to finally take a moment to myself. I've been blessed over the past seven years to be working non-stop. Acting on four shows, writing for two. And I'm not saying that that's a problem, I'm only saying that I was other people more than I was myself. So, I got the opportunity to reset during this. It's been an opportunity to kind of reassess myself and figure out new things that I want to do and not be distracted from what I'm doing.
You're anything but not prolific. I mean, you are working non-stop.  No one can accuse you of just sitting around and waiting for things to happen.
Allen Maldonado: Oh man, thank you. I truly appreciate that. Man, I work my butt off.
It's been a journey of discovery being that early on in my career, I knew that I wanted to do this thing and I felt in my in my soul that acting was the gift that God blessed me with it. And at the age of 17, I pursued dream. It was a relentless pursuit to what I felt was meant to be. And throughout the years, as an artist, I felt, you know, just like any other actor you feel unwanted. You feel slighted… in the sense that you feel that you're talented enough for these particular roles. And you don't understand that it's a business.
So, for the first 10 years of my career, I was an artist. I was working and I was beating the pavement. I went from having one line, actually just a grunt in my first movie, Friday After Next, to fast forward to now.
But those first years, it was me as an artist and the business was beating me up. And I was wondering, "Why am I not getting my opportunity? Why am I not getting my shot?"
And then, seven or eight years ago, I went to college for 2 1/2 years for business and I said, "What if I apply some of those morals and principles that I've learned in school… what if I applied that to my acting career?" So, I created a plan. I created a business plan. I created a brand. I created a product. What did I want to do and what was I selling? Who am I? Who is Allen Maldonado?
Because I'm more than just an actor. More than just a writer, more than just a producer, director, musician. I'm an artist. So, I can fill in any slot that I feel that if I work my hardest at and I give my best, I think the people will like it.
I've seen you in a bunch of different things, and each character that you that you play is always different. I'm just so impressed by you. How do you go about creating these different people?
Allen Maldonado: Great question. For me, it's all about perspective. I believe that we all could be any character that we play. So, it's not about me creating this role but creating this perspective. And once I'm able to understand that and I apply some things that I know to be true, it makes it all real to me.
When you first get the sides for an audition, what are you doing that others aren't to prep for that audition?
Allen Maldonado: I don't want to say what others aren't doing but I think through experience and being a writer as well.
When I see a script, it's all about dissecting it. I gotta give a shout out to my acting coach, Bobbi Shaw Chance, she birthed me as an actor. I studied with her 6 1/2 years, four days a week, no breaks. So, I'm an actor's actor. I know a lot of stuff that I've become popular is the comedy but the first 10 years of my career was called dramatic work. All dramatic work. So, the craft is very, very, very, very, very important to me. I'm obsessed with it.
Dissecting the script is my most important path because it's not the words as much as trying to understand the character and their purpose within the scene. So if I know the intention and the understanding of the character, the words will come out if I listen.
So, I can pick up 10 pages of dialogue is 15 minutes because I don't memorize anything. I only know the first line and then after that I I'm still in the understanding of the character. When I hear things, I know how to respond properly… so I don't memorize anything.
That's amazing.
Allen Maldonado: I mean listen, this is something that was just a gift from God. This is something that I've learned to master over the six years that I studied with Bobbi Shaw Chance to the years after that…. where it's been a personal journey of what acting is and how you can continue to grow from it.
How did you originally get into acting? I saw you took a drama class in high school… was how you got hooked?
Allen Maldonado: Yeah, man. I had taken this random acting class in Beverly Hills and to be totally honest, I think they swindled us, me and my mom. For real.  Knowing how things go now with acting classes, I think we got swindled. But shout out to my mom for being the first person to invest in me as an actor. Even though it was a bad investment, she did it anyway. We didn't have the money to do it. So, it was my senior year in high school that I got a chance to be a part of a real acting class, is what I'm saying. It was just like a fish to water. Everything came to me like I've been doing it for years.
I understood what working hard was because I played basketball. And I suffered from gravity deficiency, I wasn't able to get to 6'7″ like I wanted to be as a basketball player. But I worked extremely hard at something that I was not gifted with and I got good at it.  So, I knew the difference between natural ability and then working hard to earn an ability. And when I saw at an early stage that acting was easy for me and it was just so natural, I applied that work ethic from earning that ability to what I was natural with and that's  what led me to where I'm now.
So what was the first professional thing that you booked? The thing that got you your SAG card?
Allen Maldonado: Man, we waited! We did the wait game! I don't know if I'm allowed to say that. I always advise people to wait till SAG makes you join. Now it's different. I mean, I don't want to date myself but I don't care because I've been doing it for a while but there was a time when you couldn't do new media. If it wasn't SAG, no non-media work. You couldn't do that. You couldn't only do SAG work. So, I would always suggest to wait for it so you're still able to do non-union work and you can still do SAG stuff if they book you. You get Taft-Hartley'ed and you get three chances to do that and then they make you join. And that's basically what we did.
My first big role though was Friday After Next. Ice Cube gave me my first shot on set. And it's crazy, I feel like every 10 years Ice Cube pops up in my life and I think we're probably due in a year, or two. Cause when I was nine, and the reason I remember it, because it was the night of OJ and the Bronco. I was a kid and I was at my godmother's retirement party, I believe, and I met him in the elevator at this hotel, with his wife. I was like, "Aw man I met Ice Cube!" He's doesn't even know this. So, the first movie I ever booked was Friday After Next. And then Straight Outta Compton, that was like another 10 years. And that was my first movie transitioning into me as a man, rather than more childish roles. So, it's always been milestones in my career where Ice Cube has popped up. And I don't know if OJ in a truck is a milestone but it was a memory, that's the first time I ever met him.
Right now you're in Project Power, which is great and you've got Sneakerheads coming out soon. Can you tell me a little about your parts in both?
 Allen Maldonado: Yeah, man. Project Power, I'm just so appreciative of being a part of that project. Playing opposite Joseph Gordon Levitt, I'm such a fan of his work. Looper is my jam.  To be able to work with him was a great honor. I didn't get a chance to work with Jamie [Foxx], but it just feels great being something special.
Then we fast forward to Sneakerheads. This is my first lead in a series. This is a major, major moment for me as an actor. For all those actors that dreamed the dream, I started from, again, in Friday After Next, I had a grunt… To now, I'm the number one on the call sheet.  It's not about how long it took, it's about… I did it. And I'm going to continue to do it. I'm going to continue to build. Success really is the journey. There is no destination. So, I've loved every moment to get to this place.
I'm excited to share with the world this great project. I'm with some incredible actors. Andrew Bachelor… he's a genius. And our chemistry on-screen, it's magical and I think that's really what's going to pull people in. I'm excited… not just for the project but just for the moment and I really appreciate it.
What's been your worst audition?
 Allen Maldonado: Oh! I don't even know if I can say… it's a little crazy!
All right, so worst audition ever. It was this independent film and my manager… and I'm proud to say he's been my manager for twenty years, Robert Enriquez… We found an audition from Backstage West, that's how long how long ago we've been doing it.
For the audition, I play this thug, this tough guy from the street and I'm seeking revenge. But they didn't really specify what was happening. The sides are just regular sides, they're not crazy. They're just me threatening someone.
I get in the room and it's every actor's nightmare. The director's like, "Hey we've got some new sides and we got some new directions for the character." "Okay, what is it?" "All right, you're name is Darryl and you go to jail. Then a dude named Mad Dog is there and he rapes you in jail. Then you get out and you rape Mad Dog. And go. Action!" That was not in the breakdown!
I'm a professional. I did my audition but as soon as that door closed, I called my manager and said, "If they call, hang up that phone immediately."