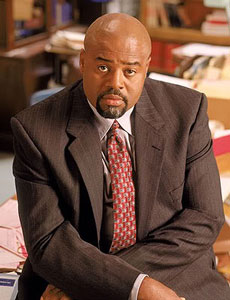 When producers are looking for an actor who can easily display that quiet, yet tough intensity (with a bit of a soft side), Chi McBride is the person they want to hire. If you've seen his work in Boston Public, Pushing Daisies, Human Target or House, you'll know exactly what I'm talking about.
He's currently appearing in TNT's medical drama Hawthorne where he plays Garland Bryce, the interim Hospital Administrator who often creates friction with series star and Executive Producer Jada Pinkett Smith and Michael Vartan.
Chi took a break from a golf outing to talk about how he got on the show, his creative input into the character and more!
HawthoRNe airs on Tuesdays at 10/9c on TNT
You have a great ability to play both calm and very intense, where does that comes from inside you from your life?
Chi McBride: I don't know, I mean I think – well the second most – the only thing that's more boring than actors talking about politics is probably actors talking about acting.
And I think that it's, you know, it's just something that you access – that you've been able to access since you were a kid. I think people make, you know, surround acting with a shroud of mystery.
I mean, you know, I realize it's a skill because I've actually been on stage with quite a few people who don't know how to do it. But that being said, it's the same thing that, you know, you take it with the same seriousness you took your pretend games when you were a child.
When you are child doing this, everything was real and you just make it real in that moment and do what the dialogue or the writing calls for and hopefully you're lucky enough to have some really good writing.
And I've been fortunate in having that in most of my career and every now and then, you know. Some days you're the pigeon and other days you're the statue.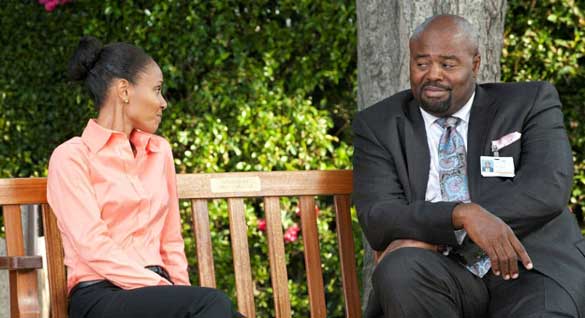 Can you talk about Jada and what surprised you most about working with her?
Chi McBride: Actually nothing, I mean I went in knowing full well what to expect. I've always – I think that Jada is a very talented actress and I really wanted to work with her. We actually talked – we've known each other, you know, casually over the years and I've done some work with Will before.
And I was at the Karate Kid premiere last year and we saw each other and I was like, so when are you going to invite me over to HawthoRNe.
And she was like, yeah right. You ain't coming over there. And I'm like what are you talking – how do you know? Ask me and I'll come.
And so she said in the way that only Jada can say it and no matter how you write this you're never going to be able to get it the way she says it. She looked at me and she said, okay. And that was pretty much it.
So a year later she called and I showed up and I said I told you I'd come. She said, you did and we just went to work.
And, you know, she wears a lot of hats and she's – she is a real professional about her work no matter which hat she's wearing. So it was a joy. I've been wanting to do it so, you know, I can scratch that off the old bucket list.
You seem to play these roles of very serious guys who go to hospitals and put everything upside down. Because this role reminds me of the role you already had on House.
Chi McBride: There's a big difference between the two guys in that, you know, whereas one guy basically just threw his wallet around and talked about his – how his $100 million was going to change everyone's life.
This guy is a different animal. This guy kind of throws his intellect around in terms of challenging people by throwing them off balance mentally and forcing them to deal with doing their jobs in order to make the whole situation better.
And I think the guy just really comes in to kind of shake things up but his intentions are not the same as the intentions of that character that was on House.
You were talking about how you got some sort of creative input for your character and for the show. So what kinds of input did you have for it? What hand did you have in that?
Chi McBride: I just wanted this guy to be a guy who would lead you to think that he is something that he really isn't. And I think, you know, just so some tweaks with dialogue and, you know.
Something that I wanted to say dialogue-wise that they were very receptive to, you know, there was a lot different, you know, he was a lot more hard on Bobbie than I thought was necessary.
So we dealt with that and we were able to come around to that and it really makes a guy more of a three-dimensional kind of character, a guy who, you have to earn his respect. And I think that at the beginning it was just a guy who just intimidated people and I didn't want to play that.
It's really great to, you know, it just felt really great to collaborate with people and when they know that you're trying to help them make the show or the scene better, they're very receptive to it which makes you smart.
I mean if I ran a show and guy came along with a better idea than mine, sure I'd take it as long as I can get the credit for it which, you know, that's what happens.