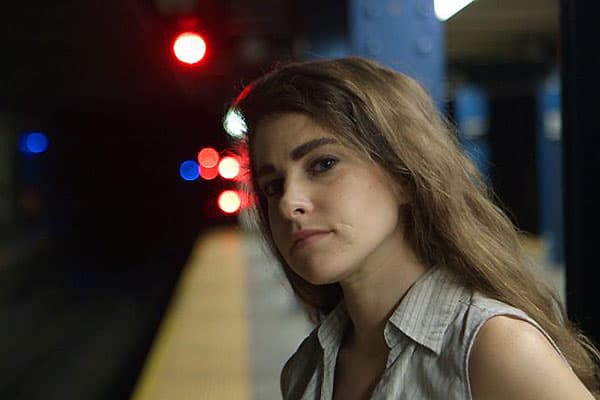 One noteworthy contender on this year's Emmy nominating ballot for Outstanding Lead Actress in a Short Form Comedy or Drama Series is Sarah Seeds in Riding The D With Dr. Seeds, in which Seeds stars as an "underground" non-licensed psychiatrist who doles out unsolicited medical advice to her patients on subways of New York City. The five episode first season, which Seeds also co-wrote and produced, also happens to be the first web series to secure distribution on Amazon Prime.
Seeds' performance has been praised as "uncanny," bringing a "fresh new voice" to streaming episodic storytelling. We took some time to sit down with the New York-based actor.
How do you see yourself as an actor? Where does that fit into the industry in terms of what available opportunities are out there? 
Sarah Seeds: I find that, as artists/performers, we are often seen as something we don't identify with. I've always seen myself as both a comedic and dramatic actress. If someone can crush it at comedy, chances are, they are good at dramatic work. Humor is always rooted in truth and exposing yourself. On paper, I'm the girl next door with an edge, but of course, there's more than meets the eye. I do have more opportunities now (minus COVID) than I did because I feel like women aren't put in as many boxes as they used to be. That's why creating your own work helps. It opened doors for me.
What did you learn about yourself or the human condition from playing Dr. Seeds? 
Sarah Seeds: "Dr. Seeds" is such a fun character to play. Her complete psychological breakdown and betrayal was devastating to feel, but so rewarding because she rises from the ashes… like a janky phoenix. She creates her own tribe of misfits. I love the resilience in that. The humanity. I relate to that… coming back from devastating circumstances.
How is Dr. Seeds different from you? How is she similar to you? 
Sarah Seeds: Well, I'm not a doctor… I just play one on TV. I'm also sometimes a little more reserved than her. Let's be real though… I wrote Dr. Seeds to let my freak flag fly, so it's all in there. I think we both adore human beings, always want to help, never give up, and we want to hear other's stories.
How has your understanding of the character evolved since you completed filming?  
Sarah Seeds: Since filming, It's truly been a luxury to see people's reactions. Those reactions have impacted me the most. People really feel for her, even in her unhinged state. I think everyone can relate to the pressures of society and losing your footing. I've come to admire her resilience more since filming.
What is your acting training? Who did you study with and where?
Sarah Seeds: I've been acting in Theater since I was a child. My first big speaking role was when I was 8 and I played Filo Q Faxit, the lawyer who was trying to bring down Noah's Ark (yeah, it was a church play), and I had paragraphs and paragraphs of legal jargon mixed with comedic timing. The audience erupted as I left the stage, and I could feel something inside me just click. I loved it. I did theater growing up in Richmond, VA, and took extensive Meisner, and improv training throughout middle school/high school. I went to GMU and got a BA in Theater and also did the Stonestreet Studios (NYU) summer program for film. It was at Stonestreet that I truly fell in love with film. It was just so dope and real.
Who is an actor you want to work with and why?
Sarah Seeds: SO many. I love actors so much. My fave of all time is Jack Nicholson. I'd LOVE to get to work with Reese Witherspoon, Tina Fey & Amy Poehler. All of those ladies are content creators/producers as well. Without their successes, I wouldn't be able to reach the audience I have. I also love Tom Hanks (producer/actor) and Henry Cavill. I just do.
You're on the first round Emmy ballot for Outstanding Actress in a Short Form Comedy or Drama. Who are you going to thank in your Oscar acceptance speech in the future? 
Sarah Seeds: I'm still in shock. This is truly a dream realized. I'm not ashamed to admit that I've thought about my Oscar speech before. I feel like it's always evolving, but with these constants: I'll thank my parents for letting me be myself from day one: wearing pirate costumes to school, jumping up on stages unprompted, driving me to all my rehearsals… for basically making my life possible. I'll also thank my first true acting teacher/mentor, Kyle Zimmerman. He challenged me. He taught me how to play, to believe, and to challenge my choices. He awakened me as an artist. To find that in my Middle School/High School years, at such a young age, I will be forever grateful.
Why is it important for actors to self-generate their own work? 
Sarah Seeds: It's beyond important. It's everything. We have the ability now to shape our destinies more and more without the red tape of the past. Make ANYTHING that speaks to you… that comes from you. It doesn't matter if someone doesn't "get it." You've made something. You've expressed something. Not only is that the true essence of art, but it's also an opportunity for you to be SEEN. Work begets work.
What advice would you give to actors just starting out? 
Sarah Seeds: Do student films. Do many of them. Do background work as well so you can be on a set as much as possible. It's all about getting yourself in the world as much as possible. Once you have footage from student films/ your own work, you can start advancing your career. Enjoy the ride.
To actors who are serious about having a professional career but on the fence about joining SAG-AFTRA, your thoughts?
Sarah Seeds: If you want to be a CAREER actor, then you must join a Union. Not just because the jobs are better, but because you're creating your financial future within the arts. You're creating a pension, getting healthcare, and by being a member, you're demonstrating that you are working/able to work professionally. It's a must. Just make sure that you are ready to take that step.
You can find Sarah on Facebook & Instagram
Guest Interview by Adam Davenport. He is a member of the Screen Actors Guild and Actors Equity Association. You can find Adam on IMDB, Instagram and Facebook.