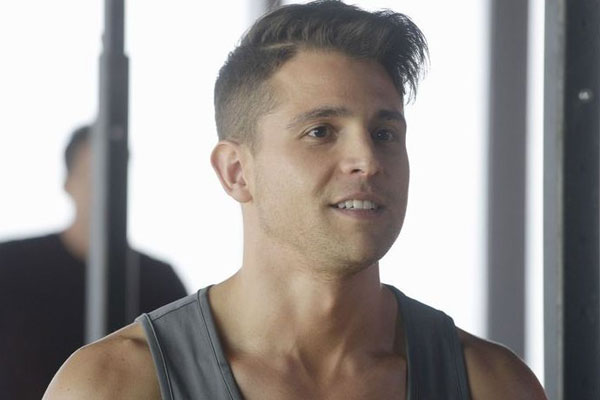 "The faster I can get those words and commit them to memory, the sooner I can really start thinking about what my intention is, what the subtext is and what my character is trying to achieve by saying these things" – Lenny Platt
ABC's Quantico just picked up a new set of FBI recruits in it's mid-season premiere and one of them, actor Lenny Platt, say's that he's "enjoying every minute" of being on the show.
Quantico, which stars Priyanka Chopra and Jake McLaughlin, follows the lives of a group of young FBI recruits who are training at the Quantico base in Virginia. Platt plays Drew Perales, a former NFL player who has a "hero complex and that could be to his detriment," he told me.
I talked to him recently about the show, shooting on location in Montreal, the "amazing educational experience" his time on One Life to Live gave him and why he had to get a day job after that show was cancelled.
Quantico airs on Sundays at 10pm on ABC
Where you calling from?
Lenny Platt: Sunny Montreal. I'm at the house waiting to get picked up to go to the set.  The show shoots in Montreal, Canada and it's been a pretty awesome new kind of experience. This town is pretty amazing place. I didn't know much about it. I mean I'm pretty close, I'm originally from New York so that's about five and a half, 6 hours away. This city is amazing and the food is just incredible. Like, Anthony Bourdain says it's one of his favorite cities in the world for food so I've been watching all of his episodes where he visits restaurants here. It's been a decadent past couple months.
Are you going to find shows to do in every city that he visits now?
Lenny Platt: Yeah, that'd be great. I might be taking my shirt off less if that were the case though. The irony is that I'm in a city with the best food and I'm on a show where you have to be in peak physical condition. The struggle is real.
You know, that is kind of a struggle.  I love to eat and I love to drink and I love to drink and eat. On weekends, do you just go hog wild? I'm sure you still have to watch what you drink and eat.
Lenny Platt: I think a big part of it is that I've always been athletic. I played football as a kid all the way through high school and I've always tried to stay in some kind of physical condition so I can treat my body like an amusement park when I have free time. I love to drink as well. I love a good bourbon.
I think it's a balance, right?  I try to exercise regularly so that I can and indulge in some of the finer culinary treats. And finding the right balance while I'm in a part of my life where my metabolism is working with me…  soon that might change and I might start seeing these martinis that I'm having with my foie gras and when that happens,  maybe my character will have to shift. I'll start playing the heavy lead or the villain.
How do you like going on location to shoot?
Lenny Platt: Oh, it's a blast. It's more fun to pretend, to play this other character when I'm in this new place to explore.
You know, the show take place in Quantico, Virginia and in New York. As an actor, I feel kind of like I'm a soldier going to war. I'm stepping foot in this new territory and I'm a hired gun, just show up on set and read these lines, perform this character and do the best I can. So there is an adventure element to it that I think is prevalent now versus the times that I had a project in the city that I live. It feels a little more routine, you know?
Who's the character that you play?
Lenny Platt:  Myself and two others get added to the show starting with the mid-season premiere. We're upperclassmen, you actually find out that our characters are a month ahead of the current group. Priyanka's character Alex and her team are actually below us and the instructors put us head-to-head. So kind of right off the bat, we're brought in to be the antagonists to the main characters and show 'em up. We're a little wiser, we're a little faster and it really makes them step up to the challenge.
My character is named Drew Perales. He's an ex-NFL player, a wide out for the Chicago Bears and without giving too much away, he's had a pretty profound event in his life that drew him to leave the NFL and pursue a career in law enforcement to help right the wrongs of the world. Drew is a guy with a hero complex and that could be to his detriment. But I think it's been a fun character to play.
I was making a joke when I started out that he reminded me a lot of Keanu Reeves' character in Point Break. He's Johnny Football, you know? I'm this character that's known for his football prowess, but decides to join the FBI. The first episode where they introduced me, people recognize Drew from his exploits as an athlete and he's trying to find footing now being a cop. It's a fun little parallel for me.
Are the Chicago Bears your off-screen team?
Lenny Platt: I have a lot of love for the Bears. When I started acting, I had a project where I worked with a company called BBQ films in New York. We do immersive movie screenings. And my partner in that business spent a lot of time in Chicago and is a huge Chicago Bears fan. So, when he found out I got the part he was really excited and was making sure that I got a crash course on the team. I don't really have a team, I moved around a lot as a kid. So my only allegiance is to my college, which is the University of Florida, the Gators. I went to school there during the Tim Tebow years and in the first episode when they introduced my character, somebody makes a joke and compares me to Tim Tebow.
I also had to do the research because I'm 5'10 and 180 which is not… I wanted to put in the realism to the part and I was like, "Aw, man, let me do the research to make sure there are players out there that have my stats, or else I gotta really start hitting the gym to bulk up to believably play an ex-NFL player." But I found a bunch. There's actually a guy named Antonio Brown who plays for the Pittsburgh Steelers. He's my height, he's my weight and the guys a baller.
I'm a wide receiver in the show so it's been fun because they've been writing into the storyline that my character has a lot of speed, which is helpful when you're chasing down perps. The show is so great in that every episode we get to do a different exercise, a different part of training of becoming an FBI agent. And a lot of that is physical stuff running or chasing a perp or if there is a relay race or something.
How was your audition for the show? Were there a lot of callbacks or did you find out pretty quickly?
Lenny Platt: I've been auditioning for the show for a while. I kind of fell in love with it last year during pilot season. I was going through a stack of pilots and always felt that Quantico had one of the strongest premises, even back then. I auditioned for a couple parts on the show and I wasn't right for those but it was still fun to watch the show and grow in its success.
And then other auditions came up a few months later when the show was on the air for a couple of different roles. I wasn't right for those as well but I got to meet Josh Safran and Jake Coburn who are two of the executive producers and got to know them a little bit.
I also owe a lot to the casting office, which is Bowling/Miscia Casting. They've always been a really big supporter of mine and helped get me gigs on Blue Bloods and Gotham most recently. So when this one particular part came up they really thought that I was right for, they brought me back in and it was pretty quick. It was one audition, no callbacks.
The next stage after I found out I got the part was that I got brought into the writers' room, which is actually in Brooklyn. They write the show in New York even though we shoot in Montréal. I got to go in and meet with the writers and talk about the character. They're like, "Here is our idea for the character, do you have any ideas you want to bring to us?" So is been a lot of fun because I'm very hands-on that way and have a lot of ideas, sometimes too many. But it's been cool to have that kind of input into the direction of the character because I'd never had that before, so I feel very lucky. It's a dream come true because it's a show where I can run and gun and I'm enjoying every minute of it.
You were on the so One Life to Live for what two years?
Lenny Platt: Yeah, I was on there for two years until the show got canceled. It was a historical institution, my mom had watched for years. It was around since the 60's, I believe? I felt honored to be part of the show, but it was also very sad to be there to see all these people who cared so much about it and have it go away.
But it was an amazing educational experience. I owe a lot to that show. I learned how to memorize quickly, memorize a lot. Think on your feet. Constantly bringing ideas and needing to adapt. That was assembly-line television and their amazing at it. It takes amazing art and science to make a soap opera happen, but it's quick, man. They shoot so much and it's five days a week. Sometimes you're doing 30 pages of dialogue. So it was like boot camp for actors, you know?
I learned simple things like learning how to work with multiple directors, right? You work on an episodic and you've got a different director per episode. But on any given day at One Life to Live, I could be working with 2 to 3 directors because we were doing 2 to 3 episodes at once. It was so fast. Learning different personalities and learn how to accommodate was incredibly valuable.
Doing Quantico, if you look at a scene once, you've probably got it down pretty quickly, right?
Lenny Platt: Yeah, yeah, yeah. This is a cliché and I apologize for using it, but it's true: it's a muscle like anything else. So if you exercise that muscle a lot, you're in shape and it's there for you. So with memorization, yeah, I can look at it and get it down pretty quickly. Which is great because to do my job and do it well, it's not just about the memorization, it's bringing those words to life and bringing truth to those words. So the faster I can get those words and commit them to memory, the sooner I can really start thinking about what my intention is, what the subtext is and what my character is trying to achieve by saying these things. So, being able to memorize things quickly has been a huge help, especially working in television where we're working so fast. And I owe that all to a soap, quite honestly.
When you're on a soap for that long and it finally stopped airing, did you have to re-introduce yourself to casting directors? To get reacquainted with them?
Lenny Platt: Yeah, I think there was a little bit of that. Because I was a contract player on the soap and it was so demanding on my schedule, I wasn't auditioning for anything else. So there was a period where I did have to reintroduce myself. People were willing to see me a little sooner because I had this credit that was substantial, I wasn't just coming off the street. I was working heavily for two years so that helped.
But it was tough. I went out to LA to try and meet some casting directors to gain some traction, but I also had to get a job that wasn't acting to pay the bills until I could land the next gig.
You did? Wow.
Lenny Platt: Yeah, for sure, man. That's part of the game. You're lucky and it's rare when an actor can float from gig to gig. That's another level in your career where you can just commit to full-time acting. But at that time I was still cutting my teeth. Even though I'd been on a soap for two years, I wasn't making a ton of money and there wasn't a lot of profile there necessarily.
I have a law degree. I went to law school as well when I was in New York, so I went back to legal world and I was drafting contracts and auditioning on my lunch break and after work. I was trying to hustle and find the next gig.
It was an important moment though because it really made me reevaluate if I wanted to keep doing it. I love that I knew I wanted to do it. So I put my head to the ground and kept working. "Here's what I have to do." I found a job to pay the bills until the next gig came along. That's how it is man.
Actors are the craziest people, you know? In the face of adversity there's a lot of rejection and it's an uphill battle constantly but I think the people that have success are the people that I look up to in the industry and what's worked for me in the past is just having that commitment in the face of all this adversity. And just kind of realize, "This is what I'm gonna do, this is what makes me happy. And I'm gonna push forward." And it's helped so far because I'm here in Montréal.
How did you start acting? Was it always something that you wanted to do?
Lenny Platt: Yeah. I had three younger brothers and my brothers and I always really loved film and television. My parents would reward us for good grades by letting us use their Blockbuster card on a Friday. We'd just go and rent 10 different movies and video games. My brothers and I were big consumers of all things entertainment.
And also when I was 11… my mom really loves Disney. My parents had their honeymoon there. So she moved us from Philadelphia where I was born to Orlando, Florida. I grew up going to the parks all the time, not just the Disney parks but Universal Studios. So I was constantly around film and television and I just loved it and I couldn't get enough of the stuff. I remember going to Universal Studios and jumping up and down and trying to get picked for the Alfred Hitchcock show so I can play the Norman Bates part. My parents were a little off put by my excitement to play the villain in Psycho but I had this bug. I just didn't want to consume it, I wanted to be part of this art that I love so much. So I kind of always knew that I wanted to be involved film and television in some capacity.
When I got to college, I was in a bunch of student film groups writing and directing. An actor dropped out of the short that we were doing so I stepped in. I was terrible! I liked it and I knew I could be better. So I thought I should do it the right way, so I took as many acting classes as I could in college. Theater history classes, film classes… Just trying to educate myself is much as I could. Meanwhile my major was criminology. Coincidentally enough, I wanted to be an FBI agent in college and I liked that too. I thought it was interesting. This is when CSI was in its heyday and I was having a blast.
But when I graduated, I was faced with the choice of what's the next step? And I knew I wanted to pursue acting so, like I said, I had this prelaw criminology major so I only applied to law schools in New York and LA so I could pursue acting while I was getting a law degree.
I got into school in New York, moved up there and I didn't know anybody. Actually, my cousin who lives in Queens that was it. I started going to school and taking acting classes, getting head shots and all that stuff. And nine years later of hustling in New York, I'm here. New York's great. If you put in the work there, if you serve and endure the city… As beautiful as it is, is hard, you know?
What's the worst audition you've ever had?
Lenny Platt: There's so many. One great one is that I spent days preparing for role and I walked in and I started reading and casting was like, "Wait, you're auditioning for Felipe not Randy." And I was like, "What?"
And I get outside and there's like six pages of monologue. "There's no way I can go in there and do this." And also they said they wanted me to do it in a Boston accent. Like, "Ahhh!" The most maligned accent of all accents that actors do. I was like, "No preparation? You're just gonna make me do that?"
The one that really, to this day, bugs me is that I was testing for a project and got to the last round with me and another couple actors. And they were like, "You know, we don't think the material is enough for you. We want to see another side of the character so we're gonna send you something else and we like to play on tape and you can send it in."
At this point in the process, it had been weeks auditioning and finally I get do the tests and the show is really cool, I put the work and in it's out of my hands now. So, I go back to New York and I get that call where they were like, "You need to audition one last time."
I get the email and they want me to do the breakup scene from Good Will Hunting where he breaks up with Minnie Driver. And they're like, "This will really show the character." Of course I said, "Yes, of course I'll do it." At this point I'm still cutting my teeth and I wanted to work. I was like, "Okay, this is another challenge." However, in my mind, I'm like Matt Damon is ironically that character. This movie made his career. This is an iconic film for him and one of the biggest scenes in the film and no matter what I do to in the performance, it's not Matt Damon. He owned it! Of all the movies, it's such a strange choice.
It was very confusing and in hindsight… Obviously, I didn't get the role, they had wanted someone else the whole time. It was a learning lesson for me. I didn't feel comfortable with it and I should've said something about it. But when you're starting out your naïve and you're excited and you're game for anything. At that point I should have been like, "This is a little weird guys."