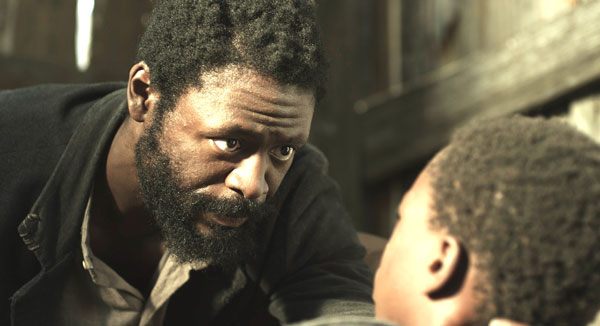 After watching Tishuan Scott in writer/director Chris Eska's Civil War era film, The Retrieval, I'm not surprised that he won the Breakthrough Performance Award at 2013's SXSW.
The film is a story about, Will (Ashton Sanders), a 13 year-old boy  and his uncle (Keston John), who are surviving by working with a white bounty hunter gang. They send the two to earn the trust of runaway slaves so they can lure them back to the South. But, when they are sent to find Nate (Scott), a fugitive freedman, things go wrong and Will and Nate find themselves on the run. 
Tishuan is terrific and I'd be surprised if his phone isn't ringing off the hooks from casting directors by now. He's got this presence on screen that almost forces you to watch his every move. I highly recommend you checking out the film when you get a chance.  
I recently talked to him about the film, his audition for the part, how he prepared for the role and what is was like to win the award for Breakthrough Performance.
For more information on The Retrieval, click here.
How did you get involved in the film?
Tishuan Scott: Regular audition process. My agent in Houston, Texas at the time, Diana Reddish, sent me the sides for the audition and asked me if I would be interested and immediately after reading, I was actually sent sides both for Nate and for Isaac who was played by Alfonso Freeman. And rehearsed, drove down to Austin in the car with my cousin who drilled me on my lines to make sure I didn't skip a beat.
Good cousin.
Tishuan Scott: And… great cousin. Yes, indeed.
And got to the audition, I was ready and prepared when I walked in, met Chris, did my thing, for both Nate and Isaac, and I went in doing a thousand percent, but I was like, "Oh, they're gonna cast someone out of LA for the lead," because they had already made the notice that they were going to LA to cast also. So I was like, "I'm gonna give Isaac a thousand percent to," and he called… I don't know how much time elapsed, but Chris called and invited me back to Austin for the callbacks and the next thing I knew, he and I were sitting at lunch and he offered me the role of Nate.
And also, he went UCLA for grad school for film and I was like, "Hold on a second. Chris, I was at UCLA for acting in MFA." I don't know if I passed him in the quad while we were in school there together, but I just felt it was rather serendipitous that here we both were from California, Los Angeles, UCLA, now in Austin, TX meeting for the first time and here he is offering me to play the lead role in his feature film. It just… it leaves me speechless.
Yeah, I can imagine. I read in an interview where you said that you kind of approached Nate as an animal?
Tishuan Scott: Well, I studied the Alexander Technique at UCLA. Jean-Louis Rodrigue taught us that. And he would tell us to attach animals to our characters. And just in my research and thinking of the embodiment of Nate I chose an alligator because they reserve their energy and Nate is a very reserved man. He only uses his energy when absolutely necessary. And so I thought that was the perfect animal. He's just… again, I use the word serendipitous because I come from Louisiana near alligators, I went to high school, we had the alligator as our mascot and that's how that came about.
Nate is such a serious character. Do you have to stay in his mindset the whole day when you're on set?
Tishuan Scott: I do and it wasn't easy. It was interesting because I didn't really feel it when we did all the rehearsals, but once we started filming something was wrong with me when I got off set. I couldn't understand why I felt so heavy. I was talking about the ritual of removing him so I would take a shower back at the actor house to remove that heaviness.
There is a spiritual albatross that is on the shoulders of inhabiting this history and the spirits of the ancestors. And I know Lupita Nyong'o (12 Years a Slave) went through the exact same thing. Her performance is extraordinarily evident in it. It's not her on the screen, it is the spirit of another being.
And I finally discovered that's what it was, it was Nate's heaviness, and Nate, I didn't feel it. Because I think walking around in the reality of the time, being an African American man in 1864, you're living your life, digging graves, burying the soldiers who have died in the civil yet uncivil war, but they're fighting for the freedom and civility of the United States of America. And separation, division. Death is all around them. He was freed from slavery, he goes north, and on the way he stops and says, "Give me your papers," he said, "I'm sorry, you can't do that," and it was either go back to the south and be enslaved again when they already emancipated us. We were free. So why would you try to make me a slave again? Abraham Lincoln made a federal law. Who are you above Abraham Lincoln? So he choose to accept that and he had to kill someone to maintain his freedom. It's unfortunate that he had to do that, but he had to do it. He made a choice to do it just like Frederick Douglas made the choice to change his last name so that when he went north there was no question about his freedom. So, Nate had to do that, had to kill a man. And the idea of the heaviness of losing your one and only son, your one and only child, at a very young age by death, you're digging graves, burying people, you've left behind the only woman you've ever loved, because you know she will be murdered if she's seen with you and you get caught. That's how much he loves Rachel.
Carrying all of that around, people tell me that they are psyched to meet me in person. They say, "You look so much bigger. You look about 6'6 on the screen." I felt Nate to be this very big man, a man of 1864. I remember looking at one of the photos, I think it was on Facebook someone had posted. And it was me during our lunch break sitting with the crew and we were eating. And I was like, "Why do I look twice the size of everyone else sitting around me?" it was… one of those optical illusions it seemed. So it translated.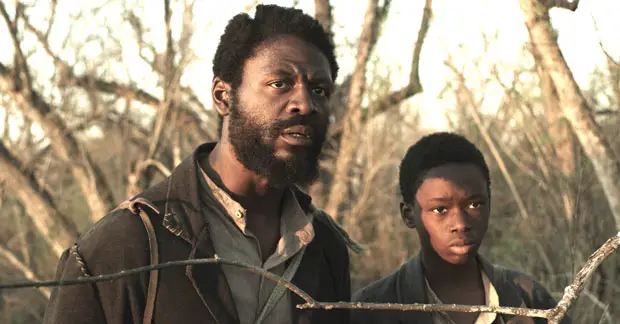 You won the breakthrough performance role at SXSW?
Tishuan Scott: Yes, I did.
That's the coolest. Were you there to accept it?
Tishuan Scott: Yes. I'm happy because I won. And this is what I attended. My mother had left, I think she had to go back to Houston and go to work. And I was there, my friend Liz was there, and the cast was there. We were all seated and they were announcing the winners.
Let me actually rewind. We had finished the film in 2011 and everyone was talking about South By Southwest, South By Southwest, South By Southwest. I've gotta go to South By Southwest. So I was thinking, having left LA with, oh, Sundance and the LA Film Festival. I've never heard of South By Southwest. It's in Texas, it can't be that good. Silly, silly, silly, silly, silly, silly, silly, silly, silly, silly, silly, me.
When I was there in 2013, the awards ceremony had moved to the Paramount [Theater]. I was typing the winners on my iPad and then I heard her say, "Our next award goes for breakthrough performance in acting. This something…" and I just… I heard specific words. I heard her say man and she said basically about him being stoic and reserved, and I was like, "Wait, that talks like she's talking about Nate." And the next thing I heard was her say, "Tishuan Scott." And I was frozen and my friend Liz was to the left of me, she smacked my leg and she said, "They just called your name, get up. That's you!"
And so she took my iPad from my lap, I got up, I'm walking down the aisle like, "This… wait. This is not happening. I'm thinking they called my name. Ok, check the screen to make sure that's actually your name. Yup, that's your name on the screen. Keep walking. Ok, there are black and white stairs, your t-shirt is black and white. White t-shirt. Black eagle. Walk up the stairs."
And then she hands me the award and she hands it to me in a position where I can read what's on it and I discover that my name is on the award and I get to the podium and I sit it down and I look up and I said, "Oh my God, there's a crowd of people that I'm supposed to say something to," and then I think I breathed in and whatever came out is on a video.
So it blew my mind, it was an incredible honor to receive recognition for my performance.