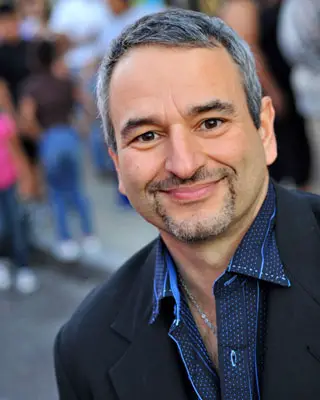 The new Broadway musical Nice Work If You Can Get It has been nominated for a whopping 10 Tony Awards, including Best Musical, Best Performance by an Actress in a Leading Role (Kelli O'Hara), Best Actor in a Featured Role in a Musical (Michael McGrath) and Best Actress in a Featured Role in a Musical (Judy Kaye).
Nominated for Best Book of a Musical and one of the main forces behind the hit show is Joe DiPietro.

Joe is already a two-time Tony Winner for Memphis for Best Book and Best Score, wrote The Toxic Avenger, All Shook Up and I Love You, You're Perfect, Now Change – which has the distinction of being the longest running musical revue in off-Broadway history.
Nice Work If You Can Get It stars Matthew Broderick and Kelli O'Hara and features songs by George and Ira Gershwin and tells the story of bootleggers, chorus girls, playboys and politicians is set 1920s.
Joe is terrifically funny and an all-around great guy. I talked to him recently about his nomination, how he came to write Nice Work, his writing process and his thoughts on casting stars in Broadway shows.
Oh, and if you ever see Joe on the streets of NYC, stop him and tell him he needs to take a vacation. He needs a break!
For tickets and more information about Nice Work If You Can Get It, click here
For the full interview, click the audio link above or download it from iTunes
Congrats on the nominations!

Joe DiPietro:  Oh, thank you so much.  You work so hard on these shows and whenever you get that sort of hug from the awards people, it's always delightful.
When you get the call, or are you watching it on TV, or does somebody call you and say, "Oh my God, oh my God!"
Joe DiPietro:  [laughs] For Memphis, the first time I thought, I might have had a chance at a nomination or two, I was such a coward, I took a sleeping pill and was in bed the entire time. And then my phone started to ring and I thought, 'Well that's probably good news' because when things don't go your way, the phone doesn't ring.  So, when things do go your way, the phone rings.
But this time I thought let me just watch it this time.  And then when we got the nominations it was like watching a sporting event, where you start cheering and screaming at the TV.
Do you like just leave and walk down the street and say, 'Oh yeah, I'm the man.'
Joe DiPietro:  [laughs] No, then you actually go right back to life, and like, 'Oh, got to walk the dog, got to do this…' I was just very happy, especially for, you know, the other folks in the show who got nominated, like Michael McGrath (nominated for Best Featured Actor in a Musical) who's been in the show, who's been kicking around for so long and for him to get that kind of acclaim now is just fantastic.
Is getting this nomination any different than the ones from Memphis?
Joe DiPietro: They're both thrilling. Memphis was the first time, so I think in a way that first time is always the childhood dream come true.  But this was really just a thrill because I love the show so much and it was such a wonderful creative process with barely any acrimony.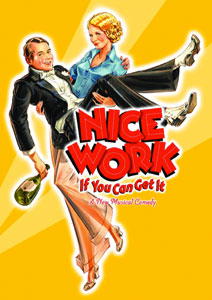 With this show, you actually got approached by the Gershwin to write it.
Joe DiPietro:  Yeah, I did actually. They called me and I guess they'd seen some of my work and said, 'We're interested in writing a comedy show using Gershwin music, that sort of harkens back to the great Princess musicals of the 1920's that they did, which were a bunch of musicals that they did in the Princess Theater.  They were really written in the day, pre-Rogers and Hammerstein where they would have dogs and jugglers and pretty chorus girls and very loose stories. So I took one of their loose stories and just sort of ran with it and made a new musical out of it.
Were you in the middle of writing something else when you got the phone call?
Joe DiPietro:  No, no, no. Generally, when you get phone calls like that – I mean, I'm sure I was doing something else, but to tell you the truth, I might have actually jumped right on this.
I love the style of that period, like I love the 1930s screwball comedies, and I love the Georgia S. Kaufman plays of that era, so I immediately knew that genre and that milieu. So I do remember saying to the Gershwin's, 'Okay, I'm your guy for this. I'm going to really write a great script for you.' Which is much more hubris then I would normally state on a project.
How long did it take for you to say yes?
Joe DiPietro:  Oh, like a second.  They called me and I was like, 'Oh my God, are you kidding? Yes.' My agent wants me to be a little more coy, so he can get more money out of them.
The final story that you came up with, how long did it take you to work that out?
Joe DiPietro:  Usually it takes me about six weeks for a draft. It was based very loosely on an old Gershwin musical called Oh, Kay! So I had the germ of the idea but then I added new characters. It usually takes six months from idea to a first draft that's readable.
How many songs did you have to go through?
Joe DiPietro:  [laughs] I listened to every Gershwin song that was written and especially very helpful was the Ella Fitzgerald recordings of the George and Ira Gerswhin Song Book.  So, I listened to those over and over and over. I really tried to collaborate with George and Ira Gershwin.  I really tried to write a show that I thought is in their voices and that they would love if they happened to walk into theater.
 Did you have any hand in the casting?
Joe DiPietro:  Oh yeah. Kathleen Marshall, a great director, at the end of the day it's her call but it's been a great collaboration. There was no question about who we would cast.  We were just so happy with all the people that we got for our show.
With Matthew Broderick and Kelli O'Hara, Estelle Parsons and Judy Kay.  Once you know they're cast, do you go back and rework some things specifically for them?
Joe DiPietro:  No, it's interesting.  A little bit.  One of the things I think that Kathleen does so well is she reads the script and says, 'Okay, who are the people who could play these roles?' So, you're not rewriting everything. And Matthew Broderick for instance, I mean I didn't write the show for him, but in the middle of rehearsal he goes, 'You know, I feel as if you wrote the show for me.' I go, 'You know, even though I didn't, I feel that… looking back I somehow knew, I somehow did.' Because it just fits him perfectly.
And, certainly, when we were in the rehearsal room, there are things I rewrote for him and he threw in a couple of adlibs that are still in the show, so it was just a very natural progression.
Basically if they said something and it doesn't get a laugh, I know it's me and not them.
What's your writing process like?  Do you treat it like a normal 9-to-5 job?
Joe DiPietro:  I always get jealous of those writers who treat as a 9-to-5. I write every day.  Sometimes I write in the morning, sometimes I write in the afternoon, sometimes at night, sometimes I'll write in the morning and then do other stuff and then write at night.  It just sort of depends.
But I write pretty much every day at least for an hour or two.  It just depends where I'm at in the project, in terms of, you know, how much I write, but I do write every day.
You said that when you started out, you didn't know anyone in the business.  How did you get your start? Did you always want to do this? 
Joe DiPietro:  I always loved theater and have such great respect for theater, but I felt like, 'Oh, I'll never be good enough to do that.' So, I actually got a job in advertising and I would write sort of at night.
And then, I got involved in this little theater group that was doing a political satire and so I just started writing these little sketches for this group and they got produced into like this little late night show and then I just sort of pigheadedly kept writing and writing and sending stuff out and getting rejected and writing and writing.  And then I finally started writing some things that people got interested in.
So, it was a very long – but, I love to write, and when I keep looking back on it, I think something that I keep doing well is that I always keep educating myself.  I'm very hard on my writing and I keep seeing shows and really trying to get better and better and better.  That has been the key to my success. I feel like I'm a lifelong student of theater and literature.
When you finish something and you go back and read it are you your own worst critic?
Joe DiPietro:  Oh yeah.  [laughs] Yeah.  I'm actually – as anyone who has worked with me will tell you – I'll oftentimes relentlessly cut my own work in rehearsals and previews.  Sometimes to the objections to actors and the director.  But I am, I am really like hard on myself. There's no sound louder to me than an audience not laughing when they're supposed to be laughing, so yeah.
Besides getting a call from the Gershwin's, how do you figure out what you're going to write or what you're going to write next?  Do you always have story ideas bubbling in your head?
Joe DiPietro:  I do. I always have a few things in various stages of development.  I'm sort of a writer who likes to write multiple things at once and there's always like one thing that's central.  But, yeah, I do generally have multiple ideas.
I also try never to write the same show twice. I always try to never to repeat myself.  So, I don't think I'll be writing another 1920s screwball comedy for a long time.
No?
Joe DiPietro:  No.  You know, you never know in this business.  But, I do try not to repeat myself or at least try to challenge myself with something that is new.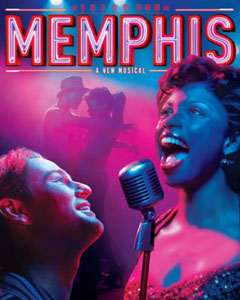 So you have this show, and you have Memphis running down the street – so, from now until the Tony Awards are you still working?  When are you going to take a much needed vacation?
Joe DiPietro:  [laughs] I appreciate that.  My boyfriend would like to know that too.  I actually am working on a new show with David Bryan who I wrote Memphis with and we are actually doing a work session meeting now that is on Wednesday, and then I will try to do a workshop of it in the Fall, so I've been fiercely rewriting that for Wednesday.
Once a show is up and running, my job as a writer is sort of done. You know, you almost feel like a parent, like you need to be able to step away from the show, let the actors take it over and make it their own and have then get used to you not being there.
With Memphis, do you ever go back to watch it now?  Now that it's been up for awhile?
Joe DiPietro:  Yeah, you know it's fascinating, especially the third year of a show on Broadway.  When you first start, it's a lot of New Yorkers and friends and people in theater.  And then there's some point, it becomes tourists and casual theater goers, so it's a fascinating to watch it over the years.  And also of course the cast is different.  You know, Adam Pascal is now the lead. What I love about theater is that every performance truly is unique.  So, yeah, if I have someone I know going see it and I will stand in the back and watch.
The New York Times came out with an article about Broadway shows and how everyone is trying to cast starts now.  When Memphis opened, no one in that show was a star. The cast was, I thought, phenomenal; especially Montego Glover. But they definitely were not name actors. What are your thoughts on casting stars in shows?
Joe DiPietro:  Well, you know, I have to say the thing about Memphis – we always loved Chad Kimball and Montego Glover – and our producers who really sort of came from developing musicals in regional theaters, they really supported the idea of just writing the show for Chad and Montego and using them, even though everyone told them they were crazy. You know, we need an R&B star to play Felicia and, you know, a rock star to play Huey. They really never gave into that and that takes a lot of guts when you're raising 12 million dollars for an original musical that's not based on a movie. So, obviously it worked out.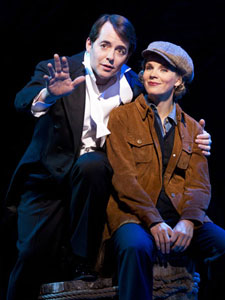 And then, one of those reasons I was so excited when Matthew Broderick agreed to do Nice Work is I'd never worked with a star.  I knew he was perfect for the role. I knew nothing about him personally, so I just thought it would be a difficult experience but it turns out he's like the nicest guy in the world and a total great team player and team leader and it couldn't have been a better experience.  And obviously a comedic genius, which helps.
So, having said that, you know I see what Matthew Broderick does for the box office.  I mean, the star has to be good in the right show.  You know, if you miscast a star, as people have done… On A Clear Day You Can See Forever, it seems like they had problems with a star in it and suddenly and suddenly no one comes.  So, I think we have Matthew in the right show, but I understand, from an economic point of view what Matthew has done for ticket sales.
And even more so than that I should say, it's fascinating to watch the audiences' relationship with Matthew from the moment he steps on stage. Matthew comes on stage and you realize he's going to give you a good time and the audience just loves him and they're on your side in the first couple of minutes.