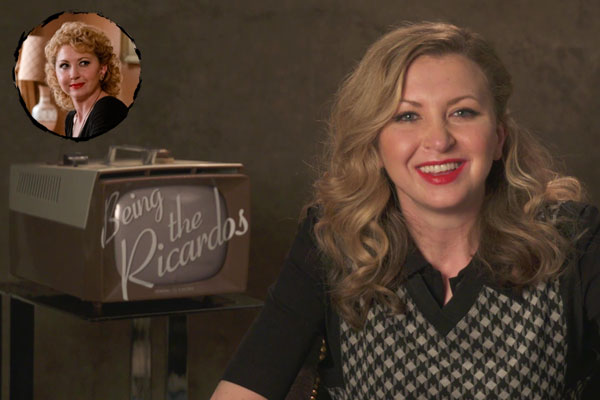 "I always break the script down the way I have since school. What does the playwrights say about me? Or what, in this case, what does the screenwriter say about me? What do others say about me? What do I say about myself?" – Nina Arianda
Being the Ricardos is a terrific behind the scenes look into the lives of Lucille Ball (Nicole Kidman) and Desi Arnaz (Javier Bardem) during one week of their hit show, I Love Lucy. Written and directed by Aaron Sorkin, the film features wonderful performances not only from Kidman and Bardem, but also J.K. Simmons and Nina Arianda.
Arianda, who is fantastic in everything (including Stan & Ollie, Goliath and her Tony Award winning performance in Venus in Fur), plays Vivian Vance (Ethel Mertz in I Love Lucy), and here, she chats about her role in the film, working with Aaron Sorkin, her first professional job and how she breaks down a script. These are edited excerpts from that conversation. For the full interview, check out the video below or on YouTube.
How do you go about preparing for something like this? Because I would imagine there's not a lot of footage of Vivian Vance when she's not Ethel.
Nina Arianda: Right. That was very tricky for me. I was determined to find something and finally, somebody sent me this clip, seconds long, and it was Desi introducing Vivian to the studio audience before they started taping. It was just her walking downstage taking a bow and it completely, it just blew my mind. Cause I mean, out came this woman with, you know, just the most perfect spine and a woman that's aware of her hips and she like sashays down and takes the most elegant bow. And I thought, 'Wow, to go from that to then completely bringing your weight down and playing Ethel.' And that's where she lived. It fascinated me. And that is of course, because Vivian Vance was a very successful theater actress. She was a leading lady, she was an ingenue, she was a very desirable woman. She was a torch singer. So, to have just even seconds with her as who she really was, was priceless.
And that just alone was enough for you to sort of grab onto?
Nina Arianda: That's what I had. That's what I held on to. And then when you watch her, I mean, it is a dancer's body and that's something to be honored because that doesn't leave you, you know? And I was just very impressed that that's the woman that came out. And then the woman who came on stage after night and day,
Did you know that she and William Frawley hated each other?
Nina Arianda: I did not know that until I started researching this. They certainly genuinely very much disliked each other,
Do you know if they ever made up?
Nina Arianda: You know what I just heard? I mean, this is again a rumor, but I just heard this the other day that upon hearing the news of William Frawley's death, rumor has it, that Vivian said 'champagne for everyone.' I don't know if that's true or not, but I'm going with it because I think it's a fabulous story. So
You and JK Simmons worked so well together. Have you guys ever met before? The chemistry between you two is fantastic.
Nina Arianda: You know, interestingly enough, we had just worked on the final season of Goliath together. I got to glare at him in a courtroom, but we didn't actually get to exchange any, you know, lines or really work together. So it was just so funny when I found out the news that I got a cast, I just walked over to his trailer and I knocked on his door and I said, "I guess we're doing this." And he goes, "I guess so." And then I had the great privilege of actually sharing the screen with him on this.
What was it like working with Aaron Sorkin? Saying his words and to actually be directed by him?
Nina Arianda: Well, first of all, it's a great honor. And it's very cool when you get a script that you almost have to treat like a score, you know? It's almost like you're reading music in a way. I felt similarly when I worked on like Oscar Wilde or even Shakespeare. It's that if you don't honor the rhythm, if you don't honor the musicality, it just won't work. And what's lovely about that is you have to earn your pauses in the most elegant way with an Aaron Sorkin script, which I appreciate very much.
It's almost like when you're singing. You have to plan where you're going to take a breath.
Nina Arianda: Exactly. And that's, that's why it's so exciting because people might say, "Oh, it's fast." It's not that it's fast. It's that you have to listen to what the music is and that's it.
How does it work getting a part like this? Does someone call you up and say, "Hey, are you interested?" Or do you hear about it and ask to be seen?
Nina Arianda: I was asked to put myself on tape. This was at the height of the pandemic and I am very, very deeply technically incapable of doing anything. So I called my lovely friends over and they helped me light it and they helped me work the camera and push the buttons with the thing that I can't do. And somehow we were able to create a tape and send it in.
Self-tapes are like the thing now. Do you just loathe them?
Nina Arianda: Yes, I do. I much prefer being in the room because that energy fuels you, I think, as a performer. So when you're at home, yeah, you can take as many takes as you want to, sure. But I don't know. I'm old school. I like to be in person. Like you feed off the energy of the room in a different way that just puts you in the moment and raises everything up a bit.
Everything I see you in, your performances are always so fearless. This film, Stan & Ollie. I saw you on Broadway in Venus in Fur. Are you ever nervous? Like when you first got a role, do you ever think to yourself, "How the heck am I going to do this?"
Nina Arianda: Nervous is a kind way to put it. I would say paralyzing anxiety, I think would be more accurate. Yeah. I've never done anything where at first I'm like, "Are you insane? It's never going to happen. You're never going to be able to pull this off." And then hopefully, if the gods are on your side, you slowly get over yourself, which is what's happening in that moment. And you make it about what you're doing, or you make it about the character that you're playing. Because you don't matter. But at first of course, you feel like you do.
But at the end of the day, nobody cares about you because you're in service of somebody else. And if you could sooner, rather than later, shift that focus, then it becomes, I'm not going to say enjoyable, but it becomes interesting.
Are you nervous on the first day on set?
Nina Arianda: Again, very kind to use the word nervous, two seconds from passing out, I would think would be more accurate. Yes.
For me, selfishly, I would love to know like the beginnings of your process of how you prepare for a part.
Nina Arianda: I go back to what I think works because you can't right away take in the whole picture, right? So, I try to break it down as much as I can for myself. I try to be as practical as I can first before I allow myself to be emotional.
So, I always break the script down the way I have since school. What does the playwrights say about me? Or what, in this case, what does the screenwriter say about me? What do others say about me? What do I say about myself? And then you really kind of get just basic information that you need from the script. Then you read it again and then you just start breaking down the scenes as much as possible.
And in this case, I had to learn also the movements of this iconic beloved woman, the character rather. And so I worked with my wonderful dialect coach, Deb Hecht, and we worked on subtleties within Vivian's voice and then trying to get up there in pitch for Ethel.
You guys recreate some classic scenes from the show. How did you go about doing that?
Nina Arianda: Well, I was having a hard time just looking either at my iPad or a TV. So, I was able to get a projector and I projected the scenes onto a wall, so I could make her kind of as big as I could. And I would kind of move with her just so I could kind of see more of the subtleties within her movement. That helped me a lot because it was kind of tough on a smaller screen, so I'm glad that worked out.
After graduating school, you got Venus in Fur pretty quick. How did you get that part and what would be like a career making show for you?
Nina Arianda: I auditioned. I auditioned for it. I was encouraged not to, I don't think people were really a fan of the script. I said, "I love it." I said, "I want to go in" and it worked out.
Any plans to do more theater?
Nina Arianda: Oh yeah, definitely.
What was the very first professional job that you booked?
Nina Arianda: I was asked to do the voiceover for a German Barbie doll when I was, I believe, eight years old. And so, I went into a studio and we recorded three lines that this Barbie doll would say, her name was Candy and you'd pull the string and she would say, 'kämm mein Haar'… comb my hair.
And so, it was my first check and my mother allowed me $20, which I spent on kissing coolers lip glosses. I don't know if you remember, Maybelline did those back in the day and the rest they put in my savings account. But that was my first professional job.
And then finally, what has been your worst audition ever?
Nina Arianda: I mean several, but I think the one that stands out is I was auditioning for Lamda (London Academy of Music & Dramatic Art) and I did Lady Percy from Henry IV, Part 2, and I did a monologue by Jill from The Big Funk, [John Patrick] Shanley's The Big Funk. And so I introduced my pieces and I said, "I'll be doing Jill from The Big Funk. And the woman said, 'Excuse me?' And I go, "Funk. Funk. Not, no, no, I didn't say… I said funk, I'm sorry." And then she just looked at me, she goes, 'In your own time.' And I just couldn't get it together after that because she thought she thought I said a naughty, but I didn't. I was just saying the title of the piece.