The cast of The Amazing Spider-Man was at Comic-Con this past weekend and I'm completely bummed that I missed it. Andrew Garfield, Emma Stone, Rhys Ifans and director Marc Webb all appeared and showed the massive Hall H crowd an extended trailer and had the first look at the movies villain, The Lizard.
I forget who I was interviewing but I'm quite positive that I wasn't having as much fun as everyone had in the audience for this panel.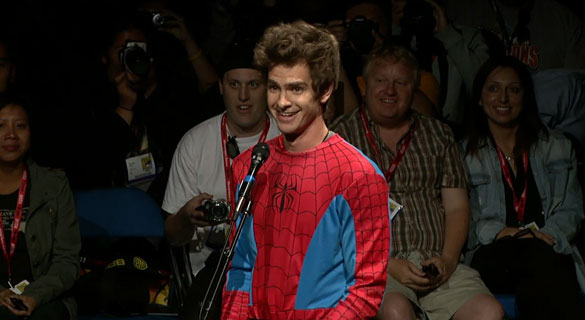 Here are two videos (courtesy of Sony) of the panel. The first is a little hard to hear but it's got Andrew Garfield dressed up in a horrible Spider-Man costume asking a question to the panel. He whips off his mask to a huge applause and gives a really wonderful speech about what Spider-Man and Peter Parker means to him. Again, I wish the sound were louder.
The second video are brief sound bites of the cast talking a bit about the film.
Check them out!