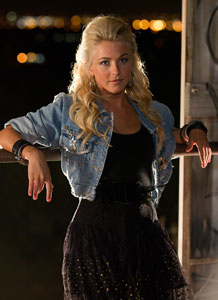 I was invited to the New York premiere of Rock of Ages, and while I wasn't all that excited about the movie in the first place (hey, I love 80s hair band music, but I'd prefer to hear Steve Perry or David Coverdale sing it than Russell Brand) the press invite said that I was encouraged to dress like a rock star.  I knew there was a reason I was holding onto my pleather pants from my 2006 Alice Cooper Halloween costume!  Of course, I seemed to be the only member of the press who actually followed those instructions.  C'mon people, have a little fun!
Another plus is that I got to see the beautiful Julianne Hough in person.  Ah, the perks of being a member of the press.
Hough is talking a lot about Rock of Ages, the film adaptation of the smash hit Broadway musical that features some of the greatest rock hits of the 1980s.  She talked to Interview magazine about how Dancing with the Stars helped her acting career and whether or not her fellow actors are singing on the soundtrack.
Of course, Hough gained plenty of fame from becoming a two-time Dancing with the Stars champion, but surprisingly she admits that she initially thought it would do her career more harm than good.  She reveals, "A lot of people don't know this, but when Dancing with the Stars first asked me to be on the show, I said no, because I wanted to act and to be taken seriously. And I thought that being on a reality show would hurt my credibility. But what I've come to realize is that being on that show completely launched my career and gave me a family and a built-in audience. My biggest fear is that people think, Oh, just because she was on Dancing with the Stars, she thinks she can act now. But I've been acting my whole life, which people don't realize. I just haven't had the opportunities that I've had with my dancing."
But Hough ended up in films by drawing on her Dancing with the Stars and recording experience, starring in Burlesque, Footloose, and now Rock of Ages.  She explains, "I transitioned into the film world by doing certain things that my fans had been used to seeing me do. My dancing and singing gave me the confidence to act. The movie I just finished with Diablo Cody is a dramatic comedy and I don't dance in that, and the projects that I have coming up now have no musical aspect to them. But I didn't want to do something so totally out of the box at first that people wouldn't get it."
But the talented Hough wasn't the only one who sang.  She reveals that no actor was replaced by a professional singer — even the actors who you wouldn't expect!  She says, "Every single person sang every single thing, which was really cool. Alec Baldwin—he sang everything. I mean, even Paul Giamatti had to sing a couple of lines. One thing I love so much about this film is that so many different actors who are so good at what they do came into this a little bit vulnerable and out of their comfort zone, and it brought out so many great things. I feel like everybody was excited and had a lot of energy because it was this new thing they were learning."
Rock of Ages opens in theaters on June 15.