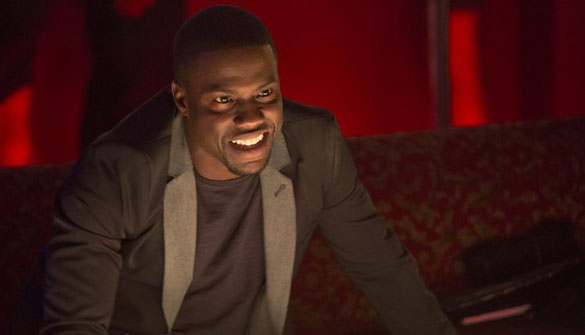 If you've watched television at all in the last few weeks you've probably seen at least one commercial for a movie starring stand-up comedian Kevin Hart. That's because as of February 14 Hart will have starred in three films released in 10 weeks — December's Grudge Match, January's Ride Along, and February's About Last Night. While Hart should probably be worried about overexposure if studios keep scheduling movies starring him every three weeks, he does think that his busy schedule this winter serves as an announcement to Hollywood that he's arrived.
Hart tells New York magazine, "I think the message has already been sent to Hollywood, which is that this kid's a hard worker, he's talented, and people are coming out to see him. And when you have box-office results, Hollywood treats you different. Hollywood stands up. Once you get to the point where Hollywood sees that you create results, then the demand for you becomes higher."
He adds, "I think that right now I'm achieving so much and accomplishing so much that I'm creating my own lane. And this way, I don't get compared to the Eddie Murphys and the other people that've achieved blah blah blah — your Chappelles, your Chris Rocks, your Kings of Comedy. I mean, there's so goddamned many guys who've done so many amazing things, but I can't redo 'them.' They're all excellent and great for a reason. All I can do is try to create my own brand and have people appreciate me for that."
Despite his recent movie success, Hart promises that unlike Eddie Murphy and Chris Rock he doesn't plan on quitting stand-up comedy. He explains, "I'm never gonna step away from stand-up. I can't. That's what got me where I am and that's also my muse. That's how I stay level-headed. That's what keeps me going."
The only question I have is where Kevin Hart gets off calling himself "kid." He's 34 years old! If he were an actress, he would be on the edge of being considered over-the-hill (unfortunately).