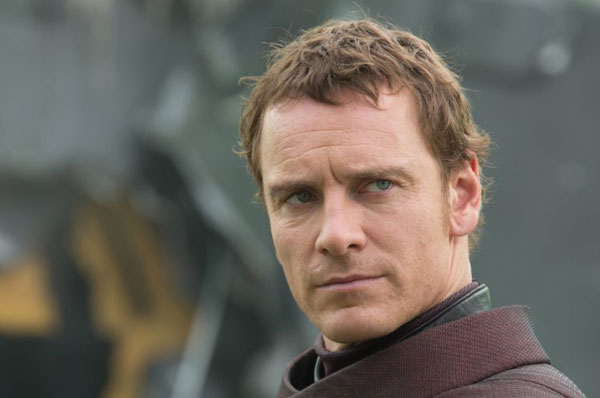 Michael Fassbender is an actor who most people weren't aware of in 2010, but by the end of 2011 his name and his naked body were the talk of the town.
In a revealing interview with GQ, Fassbender talks about his early experiences breaking into acting and how he has coped with his fame post-Shame.
Fassbender explains that he more-or-less fell into acting while he was looking for a way to express himself.  He says, "As a teenager, you're searching for something that fits for you. I was pretty average at most things. I was just looking for something that I could relate to and perhaps excel in myself."
His professional career started with a number of lows.  After being cast in the HBO World War II mini-series Band of Brothers, the film shoot lasted for nine months.  Those nine months, however, did not amount to much screen time for Fassbender, who says,"Blink and you'll miss me."
He lived in Los Angeles during the following months and struggled in his auditions.  He says, "I wasn't blowing them away in the audition room, that's for sure.  I just didn't feel settled or comfortable or confident."
After moving back to London, Fassbender felt that 2007 was going to be his year.  He reveals, "There was something funny about that year.  I realized that year somebody left the door open. I'm kind of superstitious—I was born in 1977, it was 2007. I just felt something in my bones." He ended up auditioning for Hunger, a movie directed by English artist Steve McQueen.  Fassbender felt a connection with McQueen, saying, "I was like, this guy is what I've been looking for for so long.  You're looking for that guy or woman who's really going to elevate you and push you in the right ways and really get something out of you that you wouldn't be able to achieve yourself."
Of course, after Fassbender's full-frontal nudity in Shame there has been plenty of comments about his manhood.  Most of them are jokes about his, um, impressive size, and Fassbender is ambivalent about the comments.  He admits, "It's fun to a point and after a certain point you worry that it kind of detracts from the movie. But there's nothing I can do. I just have to laugh it off. I can. Pretty much. Because I take my work seriously but I can't take myself too seriously. I'm in such a crazy privileged position—shit, this is the pinnacle of the dream when I was 17…. Nobody wants to hear really how difficult it is."
Despite a stellar performance in Shame, Fassbender wasn't nominated for Best Actor at the Oscars, something which many critics were shocked by.  He confesses he was surprised by his own disappointment in not being nominated, and explains, "At the beginning people [say], 'You're going to be going to the Oscars,' and you're like, 'Whatever, doesn't matter, don't think so.' But after a while it does penetrate. After a while you're like, 'Anyway, so I'm going to the Oscars…' [laughs] And you start to believe it. And I did. I thought I was going. And then I found out I wasn't and I was upset. I was very upset by it. The first reaction was 'What the fuck…?' It's a vanity thing. It does become important to you. And it shouldn't."
Nonetheless, he feels the experience was "A good little lesson" in priorities and getting an ego.  I'm not sure if that comes in handy in the same way with all of the positive comments about the size of his member, though.