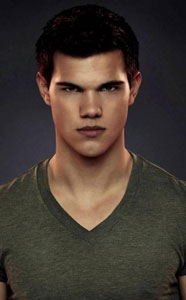 As Twilight fans are preparing themselves for the last installment, Breaking Dawn: Part 2, Taylor Lautner, who stars as werewolf Jacob Black, is also trying to cope with the end of the franchise.
"It'll be tough to say goodbye to spending time with people that I love," Lautner said in an interview with Yahoo! News.  "We've grown so close over the past few years.  Our relationships will go on past this but to not have that excuse to spend day after day together while filming or promoting will be different."
Lautner faced one of his biggest obstacles with the role in this particular film—where the audience learns that Jacob has a special connection to Bella and Edward's daughter.  "It was a challenge, and it is so complicated, but really nobody understands it more than Stephenie Meyer who created it," he said.   "I was picking her brain all day long about it.  She basically told me over and over again, 'Taylor, stop trying to over think it, stop trying to take it different places…It's a lifelong bond between two people, that's it.'  In the movie, [Renesmee, the daughter] is 10 years old, it's much more of a protector relationship right now, and of course the relationship will grow more but we don't explore that, but it was important for me to keep it simple."
An additional challenge with starring in one of the biggest franchises in history is the amount of attention the actors receive in regards to their personal lives.  The Twilight fans were shaken a few months ago when it was revealed that star Kristen Stewart had cheated on her on-and-off screen love Robert Pattinson. 
Lautner has tried to handle all of the attention in his own way.  "It's unlike anything else because when we do talk about the movies, 90 percent of the time people want to know more about ourselves than the characters and what's going on.  I guess that just comes with a fan base like this, it comes with the job and you try and not let it affect you too much, but I have no complaints…The scrutiny, is it unfortunate?  Yeah, but you just got to make your way around it and think about things more."
Breaking Dawn: Part 2 hits theaters Friday, November 16.