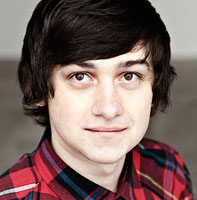 Craig Roberts isn't a household name, but the twenty-one year old actor has appeared and several acclaimed films in his growing career.  Though he'll be appearing in three films in 2012, including Red Lights with Robert DeNiro, Cillian Murphy, and Sigourney Weaver. 
Seemingly on the verge of a career breakthrough, Roberts spoke to Interview Magazine about his breakthrough role as Oliver in 2010's Submarine and why he wants to keep doing films that are completely different.
Though he received praise for his role in Submarine — including a London Critics Circle Film Award for Young British Performer of the Year — Roberts admits that growing up he didn't initially want to be an actor. 
He explains, "No, no. I wanted to be a [soccer] player, because they earn so much money over here, ridiculous amounts of money. It seemed like a good career choice. I was very bad at [soccer], I realized when I was about eight, so I went to this improvisation class and started acting. I did guest spots on UK shows, but it wasn't until Submarine and learning to act on that film, which I believe I did, [that] I realized how much I loved it and was like, 'This is what I want to do.' With kid's TV, it's just so over the top. Do you have Nickelodeon over there [in the US]? [I was on] our version of Nickelodeon, it's not real at all. I did a lot of that and [director] Richard [Ayoade] just stripped it all away, 'Say the lines, but don't say them. Throw them away.' He sent me a few movies, The Graduate, Rushmore, Squid and the Whale, and I fell in love with that sort of acting. It's brilliant; it's all through the eyes. You don't really have to say anything, which is how we are in real life; we aren't like people on Nickelodeon. I realized that what I was doing before was not acting. I have no idea [what it was]."
Despite Roberts' success in Submarine, he plans to branch out to roles different from Oliver.  He says, "I think it's good to do stuff that's different, although I do love that sort of comedy, the dry deadpan. I don't want to have a career of doing the same thing over and over again because it's going to come to a point where [people will be] like, 'Okay, he can only do that one thing.' I'm not going to do anything close to Submarine for a while."