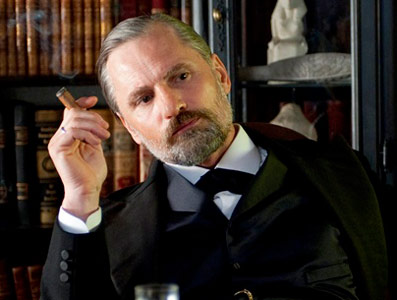 Viggo Mortensen, who became a superstar after his role as Aragon in The Lord of the Rings movies, has won additional acclaim for his roles starring in A History of Violence and Eastern Promises, both directed by David Cronenberg.
He has teamed with Cronenberg again for A Dangerous Method, which was nominated for the Golden Lion award at the Venice Film Festival, but in an interview with the Wall Street Journal Mortensen admits that he almost passed on the opportunity to work with Cronenberg again because he didn't think he was the right choice to play Sigmund Freud.
When Cronenberg approached Mortensen about making a third film together by offering Mortenson the role of Freud in A Dangerous Method, Mortenson initially turned the role down. He explains why by saying, "I just felt it was a stretch, just physically because of the way I look. You might think I'd be more right to play Jung, let's say, or the character that looks more like him, just physically—my face, my type, physically speaking. The other thing is that it was a different kind of role for me because they speak so much. Freud uses words to convey evasion, manipulation, seduction in a way that I usually use gestures. Most of the characters I've been given to play have been relatively non-verbal."   But Mortensen is correct — while he certainly does have the acting ability to play Freud, he doesn't particularly look like the famed founder of psychoanalysis.  Luckily with modern makeup effects this was a problem that could be fixed.  Mortenson notes that with Stephan Dupuis, who previously won an Oscar for the makeup in Cronenberg's The Fly, "I thought with the help of a great makeup person… it could work. He altered my nose. And one thing that's mentioned a lot by his contemporaries is that Freud had a particular type of penetrating brown-eyed gaze… So he started playing around with lenses that looked right but also didn't take away my own eyes' expressiveness."
Of course makeup alone doesn't create a character, and Mortensen didn't hesitate to delve into the role, explaining, "I was cast late in the game but I started doing the physical transformation, all the usual research. I went to Vienna, to his birthplace. I read a lot of material about him. I listened to composers like Mahler. Half the fun—no, really all the fun—is in the preparation."
Was all the preparation for the role worth it?  Mortensen admits that while it was difficult, it was rewarding.  "I eventually got used to the idea and I am really glad I got to play him. But it was a stretch for me, more so than playing the Russian character [in Eastern Promises]. Sometimes it's good to be put in a position where you're forced to try something that you didn't think you were capable of."
A Dangerous Method is now in limited release in New York and Los Angeles.