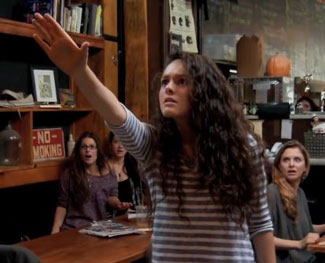 Here's a marketing video, called 'Telekinetic Coffee Shop Surprise', put together by Sony for the upcoming film, Carrie.
It's awesome!
The studio set-up hidden cameras, a fake wall, remote controlled tables and chairs and other insane stunts and props inside a coffee shop in New York City. They hired actors and a stunt man to perform in the shop and filmed the reactions to the unknown teen going all 'Carrie' on the place.
The video itself is pretty damn cool but after watching it, how much freakin fun do you think the girl playing the Carrie role had? I'd bet it was a blast.
Check out the madness below!