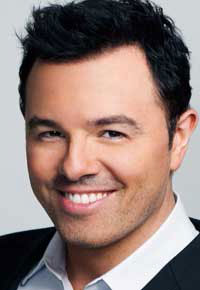 It was just announced that Seth MacFarlane will host the 85th Academy Awards®.
Huh.
He's defintiely an interesting choice. I don't watch Family Guy but the interview he did recently on Howard Stern and his hosting gig on Saturday Night Live a couple weeks ago have turned me around on him. I think he might be really good.
But, I pray to the Hollywood Gods that I don't see one second of Family Guy footage.
This will be MacFarlane's first appearance on Oscar's stage. The show will be broadcast live on Sunday, February 24, on ABC.
"It's truly an overwhelming privilege to be asked to host the Oscars," said MacFarlane. "My thoughts upon hearing the news were, one, I will do my utmost to live up to the high standards set forth by my predecessors; and two, I hope they don't find out I hosted the Charlie Sheen Roast."
"We are thrilled to have Seth MacFarlane host the Oscars. His performing skills blend perfectly with our ideas for making the show entertaining and fresh," said telecast producers Craig Zadan and Neil Meron. "He will be the consummate host, and we are so happy to be working with him."
MacFarlane made his feature directorial debut this summer with the box office success Ted. He also co-wrote and produced the film, and voiced the title character. Ted has brought in over $420 million worldwide, making it one of the highest-grossing films of the year.
MacFarlane is the creative force behind the television series Family Guy and co-creator of American Dad! and The Cleveland Show. In September he hosted Saturday Night Live for the first time, for the show's 38th season premiere.
An accomplished live performer, MacFarlane has played to sold-out audiences at London's Royal Albert Hall and New York's Carnegie Hall.In 2011 he released his debut album, "Music Is Better Than Words," which earned two Grammy® nominations. He also has earned 13 Emmy® nominations and won two for his work on "Family Guy."