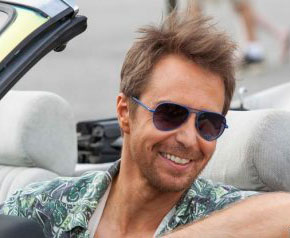 The Way Way Back, Nat Faxon's and Jim Rash's much-anticipated follow up to their Oscar-winning script for The Descendants finds the two longtime pals and Groundlings Alum wading into the treacherous waters of the coming-of-age tale and emerging with one of the smartest and most heartfelt comedies in recent years. Of course, this could have something to do with the fact this time they not only collaborated on the script, but also shared directorial duties, not to mention cast a who's who of reliably superb actors, including Steve Carell, Toni Collete, Allison Janney, Amanda Peet, and Maya Rudolf.
Talented triple threats, Faxon and Rash themselves contribute scene-stealing performances as well in small but hilarious roles, but it's no surprise that it's Mr. Underrrated himself, Sam Rockwell who practically walks off with the whole film, turning in a go-for broke performance as a loveable loser and mentor to the film's adolescent protagonist, played by newcomer, Liam James.
For Rockwell fans, this triumph represents just one more notch in the belt of one of the most versatile and talented actors working in Hollywood today. In fact, his signature style and singular performances in some of this town's biggest projects have earned him quite a dedicated and impassioned following. They've also drawn comparisons to another quirky genius who managed to sail under Oscar's radar for years. You might even see this comedy icon's influence in Rockwell's latest role.
"Bill Murray (in Meatballs) was the main go-to reference, and I think we talked about it a little bit, but it was sort of unsaid for me. But there are prototypes for every character, everything I've done. Everything's been done before, you know? When I met Ron Howard for Frost/Nixon, I think one of the reasons I got the job is because I said, "Oh! You need Richard Dreyfuss in Jaws. You need Dustin Hoffman in All the President's Men. That's what you need here." And I saw his eyes kind of light up, like, "Oh, yeah! This guy understands what I'm looking for." It's a quick kind of shorthand with filmmakers to reference films, because it's part of the vocabulary.  But you want to be careful — you don't want to do a carbon copy of a carbon copy, you want to draw from real life. That's why it's important to watch documentaries and watch real people. When you're playing a drunk, to research playing a drunk, you don't get drunk. You go to a bar and you drink Coca-Cola and watch drunks, you know what I mean?"
It hardly seems like Rockwell has to worry about that, but the film certainly represented some other challenges for him. Particularly filming at an open-for-business waterpark for kids.
"There was a moment where I'm kind of embarrassing Duncan with a microphone, he's trying to talk to a girl, and I was getting a little R-rated in some of my ad-libs, probably something about sexually transmitted diseases. I went a little too far, because I sort of forgot that there were kids there, and one of the women who worked there, one of the managers, came over and scolded us, "You got to get off the microphone, this is a place for families!" That whole thing. That was a sober moment for me, Uh-oh, we got to clean this up a little bit. The guys would always pull me back and make sure I was in the right place."
Screw the right place, Mr. Rockwell, clearly what you're doing is working for you!
Via vulture.com