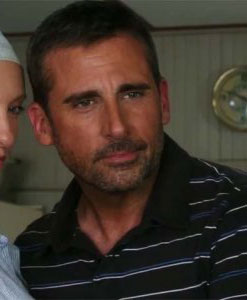 Steve Carell didn't always know he was going to be a comedic actor.
"I wasn't a class clown, I never developed this comedic flair as a kid," he said to Interview.  "Even when I decided to become an actor, it was just to be an actor, not necessarily a comedic actor.  I wasn't that guy who struck out with women so he became really funny, and that's when the women started to like him."
Carell is stretching his dramatic acting muscles in his latest film, The Way, Way Back.  He did a few preparations to get into character.  "I got a haircut, I grew a little stubble, and I got a tan," he explained.  "I think this guy sort of fancies himself as being a bit of a stud, at least in his own mind.  I think he's definitely an alpha male, and I tend not to play that kind of guy, either.  Someone who's in charge when he walks into a room, it's his way."
The actor enjoyed the chance to play someone decidedly less goofy than his Office character, Michael Scott.  "My character was definitely more of a straight man in this, which I felt was great," he admitted.  "I have no need to be funny in something that doesn't necessarily call for it.  There was nothing funny about this character to me.  But at the same time, I didn't want to play him as a heavy, either.  I've said this before, I don't ever want to take a part in order to prove that I'm capable of doing something.  It's all based in doing stuff that's interesting or working with people who would be fun to work with.  After this I did a drama, a straight drama with Bennett Miller.  You get asked to do a part for somebody like that and you do it."
However, Carell almost missed the chance to appear in The Way, Way Back.  "I initially said no, only because it was gonna be shooting in July and I generally spend the summers with my family, that's kind of a no-fly-zone," he said.  "Summer vacation, I always spend it with my wife and kids but they asked, 'Well, where do you go for the summer?'  I go back to Massachusetts, a little South shore town.  They said they were looking at that area as a potential location, and they ended up shooting it there.  It worked out great."
The Way, Way Back is currently playing in select theaters.