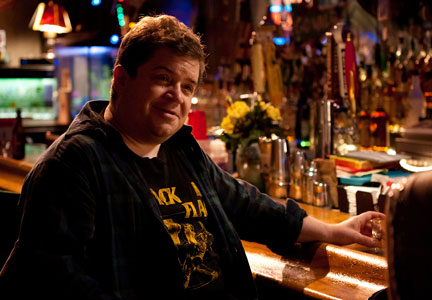 Comedian Patton Oswalt might be best known for his standup routines (or lurking creepily in episodes of King of Queens), but he actually has shown some impressive dramatic depth as an actor in films like Big Fan and the upcoming Young Adult. 
In an interview with the San Francisco Chronicle, Oswalt talks about the challenges of making Young Adult and why his career has taken the unique path that it has.
Oswalt — not exactly known for being an impressive physical specimen — points out the most difficult part of his role in Young Adult, which is perhaps something we'd all gladly do with similar feelings.  He confesses that the most challenging part of role was, "Um, appear half naked next to a half naked Charlize Theron was a bit of a challenge.  Hmmmm, wait a minute … no, I don't think I've done that before. I'm pretty sure."  Nonetheless, to make Oswalt feel a bit better I can say that the scene is perhaps the movie's funniest.  In all seriousness, though one would expect Oswalt to be one of the typical comedians who only act in screen comedies (like former King of Queens co-star Kevin James), Oswalt has been very selective about parts and has starred in more dramatic films with elements of comedy and not the other way around.  Oswalt admits he is purposely choosey, explaining, "I've been very very fortunate. This hasn't been strategic. If anything has been strategic in my career it's that I read a lot of scripts, I've written for a long time, so I know what a good script looks like."
In fact, Oswalt draws inspiration from a fellow comedian-turned-dramatic actor.  He says, "Bill Murray is a good example. I would not put myself anywhere near his talent level, but as far as choosing stuff, I love his model. Does this intrigue me? I don't think your career should look like a swoop upward. It should have peaks and valleys and silences and activity. I hope that that is what happens to me."
Young Adult opens today in limited release, then expands on December 16.