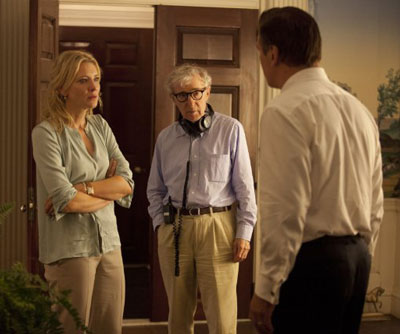 In a summer filled with big blockbuster movies, Woody Allen is again making a splash with his latest film Blue Jasmine. Over opening weekend, it became the filmmaker's highest-grossing debut at the box office.
The new independent film seems to draw parallels to the Bernie Madoff scandal . The story revolves around a housewife's life falling to pieces after her husband is arrested for his involvement in a ponzi-like scheme. The movie follows Cate Blanchett's character trying to rebuild a life that was nothing more than a house of cards.
For actors who work with the quirky director, they know that the bar is set enormously high when they step onto Allen's set. For Australian star Blanchett, that is exactly what happened on the first day of filming.
The 44-year-old actress shared with the NY Daily News, "The thing he always used to say to me was, 'The audience already left the theater.' We got that on the first day; it was just awful, it was just awful. It bonded (the cast); it made us want to do better the next day."
With such high expectations from the 77-year-old director, Blanchett knew she had to dig deep to find her way with such a challenging role. Allen is known to give little information about the scripts, it is up to the actor to figure it out for themselves.
Blanchett said, "You read the script and think it's hilarious, absurd, ridiculous and deeply tragic. The balancing act is how to find the right tone."
The one question she kept asking herself while portraying the role was "How could she have not known what her husband was doing?" That focus kept Blanchett on track throughout the shoot.
The film already has Oscar-watchers predicting another nomination for the well-respected actress. She earned her first nomination in 1999 for Elizabeth while garnering an additional four nominations along the way. Blanchett won an Academy Award for Best Supporting Actress for her role as Katherine Hepburn in the 2004 film The Aviator.
Blanchett will next be seen in The Hobbit: The Desolation of Smaug which hits theaters on Dec. 13.