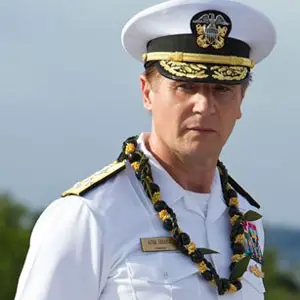 I always liked Liam Neeson as an actor even before he revealed himself to be a middle-aged bad ass in movies like Taken, Unknown, and The Grey.  So while I am not surprised to see him in another action movie, I was surprised when I found out that he was starring in Battleship, which, believe it or not, is based on the Milton Bradley board game.
How did Neeson find the inspiration to act in a movie based on putting plastic pegs into plastic ships?  According to Neeson, he found it in the script and the filming locations.
Though Neeson speaks positively about how the script initially attracted him to the project, I think he relies a bit heavily on cliches when describing it.  He says, "The foundation stone is the script, and this one was a real page-turner. That's the litmus test. If I'm reading through it and I'm suddenly at page 78 and haven't stopped for a cup of tea or a glass of water, it's got me. I thought this was very gung ho. It's got thrills and spills and very good character development, too."
I'm sure he was very serious when he said this (as Neeson always seems to be), but I would've loved to have seen the expression on his face when he said that.
As for the film's action sequences, Neeson's recent experience in action films certainly helped him, but he also points out that filming on the deck of the U.S.S. Missouri, the ship on which Japan officially surrendered at the end of World War II, was particularly inspiring.  He explains, "As an actor filming on location in Hawaii, at Pearl Harbor and on the Missouri, I didn't have to use my imagination…all that history is right there for you."  I could definitely see all that history that being more inspiring than the script, so I don't doubt Neeson there.
Battleship is set for a U.S. release on Friday, May 18.