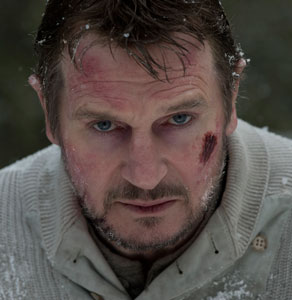 Though mostly known throughout the 1990s as a dramatic actor, Liam Neeson has surprisingly become something of an action hero as he approaches his sixtieth birthday.
In Neeson's next action film, the action thriller The Grey, he is a member of an Alaskan oil drilling team whose plane crash-lands in the wild.  But filming a movie that takes place in the tundra has a number of physical demands that made the shoot challenging.
In fact, even though he was drawn to the role, Neeson had concerns about his physical ability for the role.
He confesses,  "The Grey triggered something very primal inside of me.  When I read the script, I was 57 years old, and the little boy inside me thought it would be great to take on such a demanding role.  I wanted audiences to say 'Wow, how did you guys do that?'  At the same time, I was thinking, 'Jeez, can I physically do this?'"
Neeson's concerns were certainly valid: the film was shot in in Smithers,  British Columbia, which is a 12-hour drive north of Vancouver.  The cast and crew had to contend with frigid temperatures and equipment failures.  Neeson recalls, "It was just a physically impossible time during the first few days.  We had lines to memorize and our brains were freezing and all we could think about was how to stay warm."
But Neeson says the production rallied around Nonso Anozie, who launched into reciting lines from Othello about the elements.  Neeson points to that moment as a driving factor, explaining, "He was just so exhilarating and it made us all feel so…right.  It reminded us that, yes, it may be minus forty degrees outside but we're actors, damn it, and we're going to get through this scene no matter what. It filled us all with this great warmth, and I'll never forget hearing that man's voice for as long as I live."
Some of the film's key action sequences involve when Neeson and his party is attacked by wolves.  The film's wolves were created through a combination of modern and traditional special effects and Neeson confesses to the realism of the end result.  He says, "We've all seen CGI effects, but we wanted something as close as possible to a real wolf," said Neeson. "So we used these huge puppet heads operated by three or four people, we used acrobats dressed in wolf suits, we used other effects and we just cut to them for two or three seconds.  In my first direct experience with them, my character was attacked by two wolves, one grabbing my leg and the other getting me under the waist. There were two guys operating these bellows to make it seem as if the wolf was breathing and, you know, it became real for me. Oh my God, it was real."
Despite the experience on The Grey, Neeson will continue taking action-oriented roles: he'll be appearing in Wraith of the Titans, Battleship, and a sequel to 2009's Taken.  Not bad for someone who initially asked himself, "Jeez, can I physically do this?"
The Grey opens in theaters on January 27