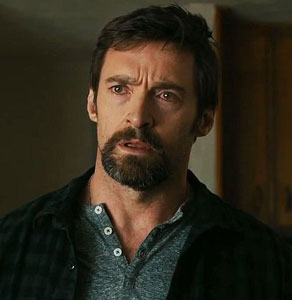 In the last year, Hugh Jackman's career has soared to new heights with his first Academy Award nomination for Les Misérables. With a busy awards show schedule, he still found the time to work on the thriller Prisoners. That film with director Denis Villeneuve taught him a few lessons.
The 44-year-old talked about one particularly punishing scene with actor Paul Dano.
Jackman shared, "Maybe this is my arrogance, but I thought he was going to come up and say, 'Thank you,' And he says, 'I need you to go there, man.' I was like, 'That wasn't there?'"
For any actor, it's important to push the limits on emotional scenes. To take himself even further into character, Jackman decided to grab a hammer and destroy the set while acting out the part.
"I didn't know what else to do, but him pushing me actually taught me a lesson about letting go, to have no idea what's going to happen," said The Wolverine star. "And thank goodness there wasn't another take after that, because I ruined the set right there!"
The Oscar nominee knows he throws 100% into a role because his wife Deborra Lee-Furness even comments about how she loses a part of her husband while filming because of his dedication to acting.
Jackman revealed, "When you're filming, there's always ten or twenty percent of you that's constantly thinking, 'What's tomorrow? What's the mountain I have to climb?'"
The subject matter of two kidnapped little girls in Prisoners demanded an intensity that was coupled with a brutal awards show season. The father-of-two explained how he balanced it all.
"I remember thinking it would be a nightmare, because we started filming in mid-January, the day after the Golden Globes, and Les Miz had blown up," he said. "I was going to awards shows every weekend and flying here and there and doing this thing and that, and I thought, 'How am I going to go from this film to all that?' But in the end, I think it helped, because I needed to release the pressure from the set."
His ability to keep his career in perspective while taking on challenging new roles seems to a moment in time that Jackman is relishing. He even finds this intensity refreshing because he's comfortable in his own skin both on and off screen.
"I feel way more comfortable in front of the camera than I did ten years ago, or even five years ago," said the Aussie star. I want to have a real run in the paddock and go for it and take on new challenges that I might not have taken on before as successfully. I have that same feeling in front of the camera now that I used to have on the stage, and that's great for me — although my wife thinks it's a semi-sickness. She's like, 'What's with you and the mountains? Even when you're off, you have to create a mountain!'"
Prisoners opens nationwide on Sept. 20.
Via Vulture