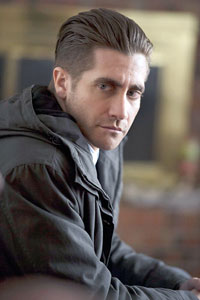 Jake Gyllenhaal is taking his career to the next level. After suffering a few setbacks with films like Prince of Persia, the 32-year-old actor is hitting a new stride with this year's Prisoners and the upcoming film Nightcrawler.
He talked with NPR about how he's changed up his career in some interesting ways.
Gyllenhaal shared, "I've sort of approached my work in a different way recently, in the past few years, which basically means I've spent, probably, about six or seven months preparing for each role…One role blends into the next role. I mean there's strange idiosyncrasies from roles that I play that I picked up that will never go away."
He points out how his 2013 role in Prisoners stuck with him in some unique ways.
"You know, I played this role, [Detective Loki], in this movie Prisoners, and every once in awhile while, I'm in a scene in this movie I'm filming now, I have — [Loki] has this strange sort of facial tick — occasionally I find myself wanting to do [it]. Like the urge will come up," the Brokeback Mountain star said.
He continued "And sometimes it's an instinct that's similar to an instinct that he had. Which is just strange. And I have to ask it to go away, or force it to go away, tell it to stop, it's not right for this movie. And it happens in my regular life too. I mean, it's fun to get so immersed that it's just as difficult to find your way out as it is to find your way in."
The inspiration behind the shift in his career came from an unexpected source.
"It just stemmed from my family. You know, all of it stemmed from wanting to be near my family, feeling like there were all these families I had made when I was making movies, but that I wanted to be near my real one," he said. "And I wanted, you know, my life in particular to be focused and centered around that. So I moved to New York, and got to hang out with my nieces a lot more, and my sister and my mom. And I've always been close with my family, but I just wanted to be literally, physically closer to them."
Gyllenhaal believes his work is taking him away from big budget films because he was seeking deeper meaning both personally and professionally.
He explained, "I just felt like I wanted to be excited. I love my work, and I had moved away from the work itself, and I was being asked questions that I didn't know how to answer. [About] you know, life, films, everything.
I just — I felt like the reason why I started acting was because I deeply, deeply love acting. You know, I love storytelling, I really do, and I just felt like I was moving farther and farther away from that idea.
And I thought, well where can I find projects and work with people that will allow me to be involved in a way that will fulfill my life, [and] make me feel like when I'm on my deathbed, I'm going to go 'Yeah, like that's the way I want it to be.'"
He emphasized again how important his family was to his life.
Gyllenhaal said, "And I also, I really do think that that came from a lot of things in my life. Like when I mention my family, it's because at a certain point — you know my parents got divorced when I was 30, you know what I mean, which is a very strange time. My sister was having these two beautiful kids and I wanted to be around. There's so many things — and I just said 'Wait a second, wait a second, wait a second, what's real here? I want the real stuff.' And I want my work to be as close to that as possible."
Nightcrawler will be released in 2014.