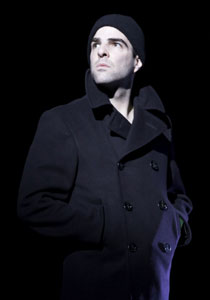 This is the first time in a while that Zachary Quinto actually has some free time in his schedule.  After starring in J.J. Abrams' Star Trek reboot and two seasons of FX's American Horror Story, the actor has chosen to appear in a production of Tennessee Williams' The Glass Menagerie at the American Repertory Theater (ART) in Cambridge.
"I wanted to do a play at the beginning of 2013, because it was the first window of availability that I had in my schedule," he said in an interview with The Huffington Post.  "So, basically my agents brought me a few different projects that I was considering and it just felt like this was the best fit for me on so many levels."
Quinto was more than ready to take on the role of Tom, but he still did some preparation for the part.  "I started by doing a lot of reading, Tom is the most autobiographical character in Tennessee Williams' body of work, so for me I did a lot of reading about Tennessee himself, his upbringing, his childhood into his adolescence and adulthood," Quinto noted.  "And then, we just got into the rehearsal process, which is a lot of discussion and a lot of reading the play out loud.  We had a week of rehearsal in New York, before we came up here to Boston, so we just sat around a table and deconstructed the play and talked about the play."
The actor first burst onto the scene playing serial killer, Sylar, on NBC's Heroes.  But after crafting a respected television and movie career, Quinto still thinks of the theater as his home.  "Theater is where I started and for me coming back to the theater in many ways was about making good on a promise I made to myself when I moved to Los Angeles almost 14 years ago," the actor said.  "I saw the landscape of the commercial theater in New York and I saw the way it was really populated by actors who established themselves in film and television.  That's really different than it used to be; 35 years ago you couldn't really star in a movie or television series, or be taken seriously in film or television unless you had been proven on stage or unless someone really found you in New York.  And then, movie careers like Meryl Streep, Al Pacino, John Cazale, Robert De Niro and all those people of that generation that are considered luminaries of the film and television world, they all started in the theater.  I saw that disparity and I thought, let me cultivate or work towards cultivating a career for myself that would let me work where I want to work and do what I want to do and not be restricted or limited by finances or by the need to pursue work on a daily basis.
"So, I moved to LA in order to pursue that and now that I have finally gotten myself to a place where I think that is at least a little bit more true than it ever has been, going back to the theater is really important to me and something that I love basically more than just about anything else in terms of my work relationships, so that was the catalyst for me and I intend to continue to do it more."