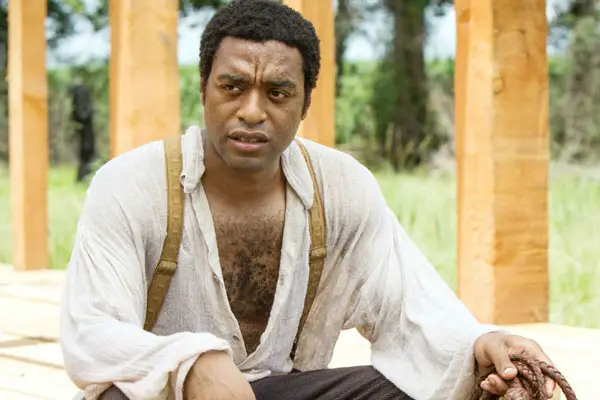 "I was a kid with this funny name. And people were like, 'It's going to be quite difficult for you to make any money as an actor" – Chiwetel Ejiofor
Chiwetel Ejiofor is about to return to the London stage, taking the main role in The National's production of Everyman; a morality play dating back 500 years. The script has been expanded, updated and re-imagined and Ejiofor says he "wants the show to be special."
It's a great vehicle for the actor to showcase his ability to a theatre audience, not that they will need much convincing of his talents after his Oscar nominated and BAFTA winning performance in Steve McQueen's 12 Years A Slave.
"It's a thrilling time. It's an experience that I of course will treasure," he says of his Academy nomination. "There's this moment afterwards," he adds.  "You've had a crazy buildup to the Academy Awards, which happens on a Sunday night, then on Monday morning you're like: 'Where did everybody go?' And you've got five emails. Instead of 500."
"The Academy Awards mark a full stop on an experience. They say: 'This is [12 Years A Slave] and we're gonna go absolutely bat-shit crazy for it.' Then on Monday morning we're done. I like that – it reminds me of the Olympic Games or the World Cup. You win and it's great. But then it's time for the next one, and nobody cares if you won before."
Ejiofor started out in the National Youth Theatre as a teenager where, he reveals, he was encouraged to change his name. "I was a kid with this funny name. And people were like, 'It's going to be quite difficult for you to make any money as an actor.'"
He was advised to go for a name change yet again while at drama school, where he was warned that if he didn't, he would end up playing Africans for much of his career. Ejiofor replied "Okay!" and subsequently went on to play mainly Africans for much of his career.
On the subject of racial equality in the filmmaking industry, Ejiofor reveals that he tries to stay out away from the political side of things as well as the whole aspect of modern day celebrity.
"I think I can say whatever I feel. I'm not tempered by the idea of, like, 'Well, this would be hard for me, because of the career thing.' This is what I was born to do and it's what I've given my life to, and it's not a question of looking at the opportunities. I don't give a f— about any of that! I'm not positioning myself," he explains. "I'm not running for office. I'm an actor."
"I just want people to see the work that I do. I don't think they should be concerned about whom I'm sleeping with or what all the rest of the aspects of my life are. I don't want to be a celebrity. I don't have any interest in that. In fact, it's almost the opposite of what I want."
He adds: "I don't want to be known as Chiwetel, I want to be known as the actor-who-is-Chiwetel, if you follow my distinction there. Doesn't everybody want that, to be known by reputation, rather than the fact of X, Y or Z?"
Via The Guardian