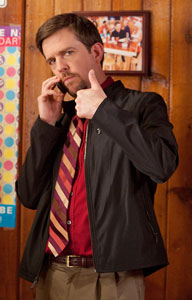 With the upcoming release of directors Jay and Mark Duplass' new comedy Jeff Who Lives at Home about to arrive in theaters on April 19th, Vulture caught up with actor Ed Helms who stars in the movie as the titular character's brother Pat. 
A guy The Office star refers to with a laugh as a "dick-y douche bag", who thinks he has his own life under control, Pat is the polar opposite when compared to Jeff (played by Jason Segel). He's the movie's hilarious pot smoking, directionless, thirty something year old living in his mother's (Susan Sarandon) basement, looking for omens and answers from the 2002 Mel Gibson flick Signs, and who isn't afraid to admit that he has no idea where he is headed.
In real life Helms had been coined a sweetheart by the Duplass brothers.  Flipping the switch from nice guy to bad, Helms shared that you don't have to be evil to play the part.  "I've worked with people who are manipulative like that. I think it's a really flawed notion that you have to be in a bad place to play a bad character, or a damaged character. It's called acting for a reason."
A jokester even when cameras aren't rolling, Helms says that he had to wear the same underwear and tie for six weeks while filming the movie that chronicles one day in the life of Jeff Who Lives at Home.  "I think it was probably the same tie, but the shoot lasted six weeks or something. There were a few different shirts and pants. But I didn't change my underwear the entire production."
Helms, who is also well known for his role as The Office's Andy, was also asked about his alter ego who seems to have morphed into a nicer guy, somewhat of a "simpleton" in the actors opinion, now that he's the boss of the NBC long running series.  "The season wraps up in some fun, unexpected ways. It's a journey. You always have to just roll with it and try new things and see what works and what doesn't.  Adding, "we lost some of the complexity that I think makes Andy a flawed and interesting guy. But that's not to say — like I said, I think it's all forward momentum. I shouldn't use words like "lost" or say "we lost our way." It's more like we just went down different avenues and I'm just excited about how it's rolling forward."
Watch Ed Helms as Pat in Jeff Who Lives At Home in a clip below.