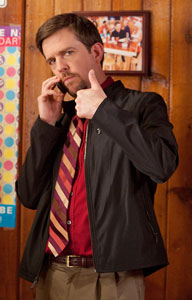 The Hangover movies and The Office might have made Ed Helms into a name in comedy (especially comedy that involves perpetual confusion or inability to pick up social cues), but aside from The Hangover movies and Cedar Rapids, Helms has mostly appeared in supporting roles or cameos on the big screen. 
So while he might not star as Jeff in Jeff, Who Lives at Home (that would be Jason Segel), Helms does star as Pat, Jeff's brother — who, as the title implies by exclusion, does not live at home like his brother. 
Helms talks about starring in the film, directed by Jay and Mark Duplass, and about his character.
Helms is very direct about why he wanted to star in the film: "Because the script was awesome.  And Mark and Jay Duplass are awesome.  The script is just the right combination of poignant and hilarious. I'm always wary of things that try to get too sappy, but this really struck a great balance, and there's even a little darkness in there.  There's a little edge to their movies and I wasn't sure if maybe these guys were a little bit dark and weird.  Then, I had lunch with them, and we had such a great time.  They're joyful, happy guys that just love to tell offbeat stories.  Their films The Puffy Chair and Baghead feel viscerally real.  It's a result of the truth they go for from their actors and their camera style, which utilizes a kind of handheld, faux-documentary feel.  It makes you feel like your natural eye has just caught this going on around you."
However, Helms had some difficulty with getting into character at first because he found the character so unlikable. 
He says, "I have to like a character that I'm playing, or at least understand how the character justifies his actions, even if he's a douche bag and it comes from insecurity.  I needed to get that to play him, and at first, I wasn't getting it.  So I kept reading it, and when I got to the end, I realized that I was misunderstanding him, just as Pat is misunderstood.  I was able to rationalize his behavior and actually fall in love with it and, in a way, that made me excited to play the role.  I like the challenge of playing someone who's really unattractive in a lot of ways.  I was trying to find the things that are redeeming and hopefully a little bit loveable and sweet about the character."
Since both Jason Segel and Ed Helms commenting on how well their lunches went with the Duplass brothers, it sure sounds like they're the nicest people in town to share a sandwich with.