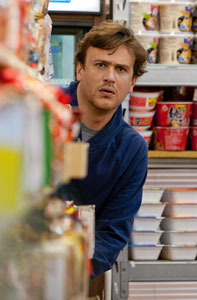 Jason Segel and Ed Helms star as brothers in the subdued comedy Jeff, Who Lives at Home, which coincidentally was written and directed by brothers Jay and Mark Duplass. Falling firmly in the Duplass' "mumblecore" style (who came up with that term, anyway?), Segel stars as 30 year-old Jeff, who as you might guess, still lives at home. 
The star of How I Met Your Mother and The Muppets explains what drew him to the low-budget movie, and what he thought about working with the Duplass brothers.
Segel has some praise for the Duplass brothers, who immediately won over him after their initial meeting.  He recalls, "I met Mark and Jay when they offered me this movie.  They came to me with the script and we had dinner – and they're two of  the nicest guys I've ever met.  There's a scene in the script that calls for this sort of action stunt.  And I wanted to do it for them.  It's not like you're working with some other director and you think, 'Hey, let a stuntman do it.'  For Mark and Jay, you want to do it for them."
Segel explains that he was drawn to the title character for a number of reasons, but admits that he was surprisingly intimidated by the role because he had doubts he could pull off the more dramatic moments.  He says, "When you find Jeff, he's 30-years-old, my age, and is living in his mother's basement because he can't really hold down a job and he's obsessed with the idea that everything happens for a reason.  He had a tragedy in his life and has had a hard time moving past it, until he can figure out why this thing happened.  I see him as abundantly optimistic, with a real underlying sense of sadness and confusion.  When I read the script, I felt a little bit scared as to whether or not I'd be capable of acting it, and believe it or not, that's my first criteria in choosing a part.  I like to be a little bit scared of whether or not I'm capable of it.  But going through it, mostly with Ed, it was nice to be doing it with someone who felt as equally new at it.  I felt like I had a real partner in crime."
While Segel praises the script, he is more impressed by the Duplass brothers allowing him to improvise, explaining, "The script is fantastic.  And if they didn't want us to go off page, there would be no need to.  But one of the things they encourage is to just try to be in the moment, and they'll let takes run and run and run.  Mark said something to me after Judy Greer and Steve Zissis finished this fantastic scene together.  I told Mark how good I thought the scene was and he said, 'Yeah, there's nothing better than just letting people be themselves.'  And I thought, 'What a brilliant sentiment from a director.'  We actually did more improvising in the dramatic scenes than we did in the comedic ones.  The dramatic scenes were really about trying to get Ed and me to dig deep as brothers, talk about what it's like, reasons why we disliked each other – it was pretty intense."
Jeff, Who Lives at Home will have a limited theatrical release on March 16.