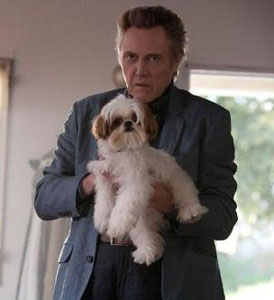 The new crime comedy Seven Psychopaths, directed by Martin McDonagh, has gotten some excellent pre-release buzz, with much of it focused on star Christopher Walken.  Long a favorite of audiences, Walken reveals in an interview his thoughts on his character, what he finds fascinating about the film, and also assesses his long career in film and what that means to him.
Though Walken plays Hans, one of the titular psychopaths, he insists his character isn't the dangerous type.  He says, "I'm pretty harmless in this movie.  I don't hurt anybody."  Still, he adds, "He's a little scary.  But I think he's pretty decent, as far as psychopaths go."
Walken was drawn by the quirky nature of the film and its characters, including a character played by Tom Waits who is a big fan of rabbits.  About a scene in which the characters are surrounded by rabbits, Walken points out, "Having a scene with rabbits walking all over the place is a great idea. I never saw that before, and there's no reason to have 20 rabbits walking around. But it makes you kind of want to see more of that."
Walken admits that not all the films he's appeared in have been winners, but he points out that this comes with any performers with longevity.  He says, "You know, if you've been an actor and you're lucky enough to work … I've made good movies and terrible movies, stuff I'm proud of and stuff I run away from. It's just an accumulation of stuff. There's a certain thing that happens if you just manage to stick around."  Hmm… I'm personally wondering which side of that Balls of Fury falls on.
via Wicked Local