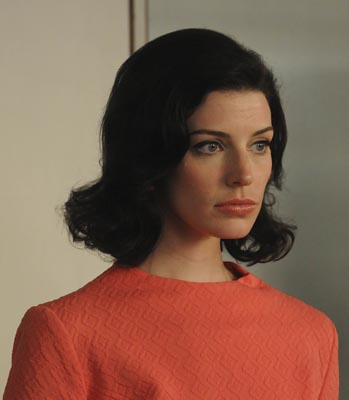 If you watched the season finale of Mad Men, then you were probably as surprised as Jessica Pare was when she read in the script that Don Draper proposed to her character Megan. I know I was.
She spoke to Speakeasy about how she got the part, her character and what she thinks will happen next season.
Were you thrown from a loop when you read that Don was going to ask to marry you?

I mean I think it's pretty obvious that somebody in my position would be really, really excited about that happening. I don't think it's too complicated. I got the part; I auditioned for a recurring role, I didn't know what that would mean at the time; I thought maybe three or five episodes. Not only did it end up being nine this season but it ended up being the future -– hopefully — Ms. Draper so it's definitely amazing for me as an actor. I think everybody can acknowledge that it is a bit of a shocker. It's very fast but I think it will be interesting to see how that plays out.
How do you think it will play out?

Well, if you watch the show then you know that nothing really happens the way you think it's going to happen. I do think that neither nor Don nor Megan, they don't know each other that well. I think they have a good sense of each other, they feel good together, which is worth something, but the realities of being in a marriage are definitely different than the falling in love.
You say to Don in the final episode "This is all so fast." Many viewers agree and were shocked.

I absolutely think that is the way it was written. I don't think anything on the show really happens by accident. I think that it is a beautifully crafted show. Matt and the other writers know where they are going with things. You will see something in episode one that won't mean anything until episode 13 and if you look back you think all of a sudden there was this detail that was a pebble in episode one that becomes a pearl by episode 13.
How have you seen Megan grow and change throughout this season?
That's another aspect of the secrecy. When you are doing a feature naturally you know your whole character arc and as an actor you can play all of the information that you are given. So it's a really interesting exercise for me to come into something like this where I don't know. For the first few episodes I did I had one or two lines. I didn't have a sense of Megan. I didn't know where she was coming from and it was an interesting challenge for me to play what was on the page and not more.