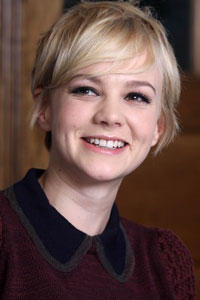 Managing to step outside of her well known, but similar, roles in movies such as Wall Street: Money Never Sleeps as Winnie Gekko, and Never Let Me Go's reserved Kathy,  actress Carey Mulligan is really shaking things up and showing off her versatility as a performer with her latest appearances in both Shame and Drive. 
Shedding the chains and shackles of typecasting, Mulligan shared in a recent HitFix interview that she was ready to take on a world of  different characters she has never played before. 
"A lot of people just wanted me to sort of do what I had already done," she recalls. "Films that reminded me of that part weren't films that I was interested in."
Appearing in director Steve McQueen's Shame as the dysfunctional sister of Michael Fassbender's sex addicted character, Mulligan had finally found herself in a role that was much different than anyone she had played before.  "When I read 'Shame,' it felt like Sissy was a character with no safety net.  And she was so far removed from anything that I had played before especially being on screen."
Her time on set was also a little different than her past involvement in others films, maintaining a more distant relationship with her co-star Michael Fassbender in order to fuel their difficult on screen work as estranged siblings. "Michael and I kept quite separate from each other.  And we didn't hang out outside of work. We didn't talk that much apart from about the mechanics of the scenes. We just came in and did the work."  As for Drive with Ryan Gosling, that was "sort of just fun," Mulligan says.  "When I get a script, I can pick out the scenes that are going to be a hard day of work and I freak out, and I over analyze them, and I worry about them for weeks and more often than not I'm sort of disappointed with what I do. With Drive  we were playing the fairytale side of the story. It was knight in shining armor, and girl stuck in a tower, and we had a pleasant experience. It wasn't challenging in the way that Shame was. It wasn't pushing out of my boundaries; it was something that I was really comfortable in. And when I talked to Steve [about 'Shame'], I talked a lot about how I felt passionately that I wanted to not do what I'd been doing."
Touching on her past roles, Mulligan, who says that she leans more "towards character roles that aren't based on appearance," also talked about An Education. 
"I was just meant to be a 16-year-old girl.  I wasn't meant to look in any kind of way. I just looked how I looked and I enjoy that. I feel a freedom in that. And I felt a great freedom in playing Sissy. I didn't have to worry about what I ate, or how much I drank, and I didn't have to work out. She was an alcoholic mess. She didn't have any money to dye her hair. I mean I didn't become an alcoholic, but I didn't have to watch myself.  It was so much more exciting to play that character that didn't worry about her appearance in any way. I knew that when I stood up in that bath naked it wasn't about whether I looked good naked or not. It was about who she was. And I knew that I was going to grow my hair out and have crazy roots and she wasn't going to look good in any kind of way. I'm playing Daisy right now in the The Great Gatsby and that's very visual. She's meant to look very well put together and pretty."
While Drive has already made its way into theaters, Mulligan's latest release, Shame, will hit theaters on December 2nd.