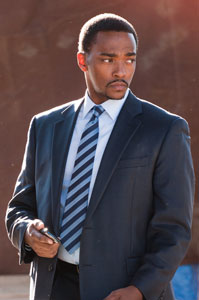 Anthony Mackie might not be an immediately familiar name to most audiences, but he's starred in Oscar winning films Million Dollar Baby and The Hurt Locker in a ten-year career that shows no sign of slowing down. 
In his latest film, Man on a Ledge, Mackie plays police officer Mike Ackerman, who shares a past with star Sam Worthington's character Nick Cassidy, the titular man on the ledge.
Mackie was initially drawn to the project not because of its story but because it was a chance to work with director Asger Leth, whose only previous directing credit is the Haitian gang documentary Ghosts of Cité Soleil.  Mackie says that documentary made him want to work with Leth, and he explains, "I saw his documentary and I was kind of blown away by it.  I was really surprised by his ability to tell a story without judgment.  We met about the character, and I felt there was something very dark and mysterious about Mike.  I felt there was something that was very cerebral, but at the same time, not aggressive or dangerous." 
However, Mackie didn't just find himself intrigued by the character, but by the whole concept behind the film.  He says, "There is such a sustained energy throughout. That's what's fun, and what I was kind of intrigued by was, it's called Man on a Ledge.  Once you get a guy on a ledge, he's on a ledge! So how do you keep a story interesting, and how do you keep those characters three-dimensional and fulfilled, throughout the course of the movie?  And I always like challenges like that.  I always like taking those characters that could be made one-dimensional or boring, and bringing them fully into the life of the person."
Mackie is definitely impressing somebody in Hollywood… later in 2012 he stars in Abraham Lincoln: Vampire Hunter and The Gangster Squad.  Let's hope he brings the same three-dimensional approach to these upcoming roles, too.
Man on a Ledge will be released in theaters on January 27.