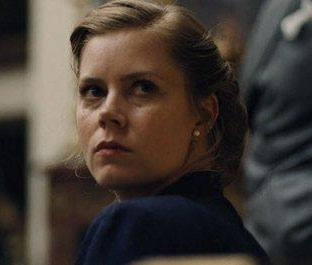 The three-time Oscar nominated Amy Adams is so beautiful that if she wanted to she could have made an entire career out of starring as the ditzy, pretty face lead in cheesy romantic comedies.  Thank goodness she didn't, because along with cute family films like Enchanted and The Muppets, Adams has starred in heavy dramas like Doubt, The Fighter, and perhaps the most challenging role of her career, The Master. 
Adams spoke to the Los Angeles Times about why she has appeared in such varied roles and what she hopes for in the future of her career.
Adams admits that picking roles is all about the challenge for her.  She says, "I like to try different things to challenge myself and see where I feel comfortable. I do love doing drama, because I really like being able to explore deeper depths of the human psyche. Not that you can't do that in comedy. I wouldn't say I like drama more than comedy."
Of course, Adams has a varied resume and is also soon appearing in two much lighter films: Trouble With the Curve alongside Clint Eastwood and the newest Superman movie, Man of Steel, as Lois Lane.  Modestly, Adams confesses she doesn't think she would pull off starring in a superhero movie, saying "I figured the only chance I'd have to be in a superhero movie was Superman, because I'm so not that girl," referring to the skin-tight costumes that other actresses who star in superhero movies wear.
But after those releases, Adams is a bit unsure about her future plans since she wants to spend more time with her two year-old daughter.  She reveals, "I'd like to focus on more time with my daughter.  My idea was to work a lot when she was young, and when she started to be more aware of what was going on, I'd do less. She's a little less impressed with me working all the time now. Her lips are starting to turn down when I leave."
Yet the attraction to exciting projects is undeniable.  Adams points out, "But I have scripts I like and people I want to work with. I know this can be a fleeting time, and I want to take advantage of as much as I can. But I also want to move forward and achieve a little more balance. I don't want to look back with any regrets."