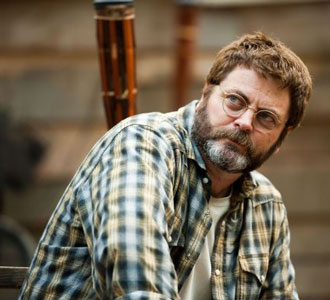 Nick Offerman is living the good life as an actor—taking on meaningful projects and enjoying fame on a network sitcom.  He recognizes he's fortunate to keep getting a chance to appear on NBC's Parks and Recreation.
"When we come back every fall, we feel so lucky," he said in an interview with Dispatch.  "We're in this interesting time when we're experiencing the conundrum of the death of the Nielsen rating system.  One of the reasons we stick around, which doesn't get a lot of publicity, is that the television business doesn't want the world to find out that ratings no longer have any accuracy at all.  We have this huge, rabid audience of young people.  Really, everybody from age 30 down is watching the show on their computer, and the networks have not yet figured out how to monetize that."
Offerman has also learned to get around the business side of Hollywood by appearing in independent films, like his new movie, The Kings of Summer.  "I've been in the business for 20 years now," he said, "and it's pretty easy to understand that—with smaller-budget projects, things that don't have any corporate influence—your artistic vision is going to be much more deliciously realized.  So, once I made the move from Chicago theater to Los Angeles, I found that the world of independent film sort of supplanted a lot of my theater life."
The actor says the role of Frank Toy in The Kings of Summer was one he immediately connected to.  "I got the script, and I was thrilled with Chris [Galletta's] writing because the film has really finely wrought humor, and I knew that I could achieve some chuckles with this part," he said.  "That, coupled with Frank's emotional arc—I wanted to do it."
The Kings of Summer opens in theaters Friday, May 31, and the sixth season of Parks and Recreation will air on NBC this fall.