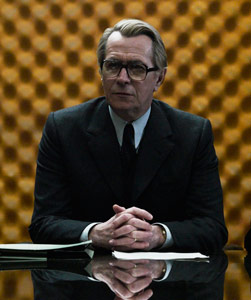 Here are 8 clips from Tinker, Tailor, Soldier, Spy. The movie stars a handful of the best British actor's working today; Gary Oldman, Colin Firth, Tom Hardy, John Hurt, Mark Strong, Toby Jones and Benedict Cumberbatch.
I think I'm embargoed on telling you what I thought of this so I please don't ask me to tell you how much I enjoyed it. Wait…oops!
The movie opens December 9th. 
George (Gary Oldman) interviews Ricky (Tom Hardy)
George (Gary Oldman) makes a request of Peter (Benedict Cumberbatch)
Bill (Colin Firth) surprises George (Gary Oldman)
Peter (Benedict Cumberbatch) and Bill (Colin Firth) talk about the new girl
Control (John Hurt) discusses code names with Jim (Mark Strong)
Ricky (Tom Hardy) and Irina (Svetlana Khodchenkova) kiss
George (Gary Oldman) hears some disconcerting news
George (Gary Oldman) is suspicious of Percy's (Toby Jones) new source