Here are 5 clips and a couple of featurettes for Rise of the Planet of the Apes which comes out tomorrow.
Andy Serkis is amazing as Ceaser and once you watch the clips (and see the film) you will absolutely agree with me.
If you don't have time to watch the clips, at least watch the featurettes. They show Serkis in his mo-cap suit and they intersperse that with the actual film so you can see the end result. Fantastic stuff!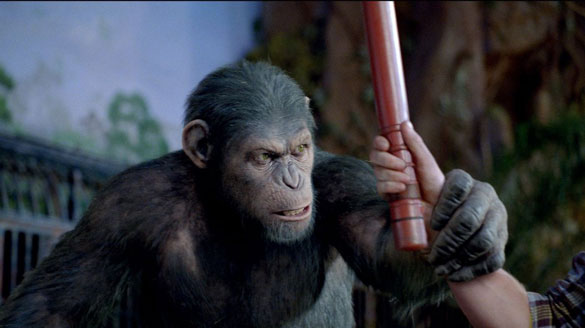 Watch the clips belowAndy Serkis introduces a clip where Caesar is taken to his new home.
Serkis introduces a scene where Caeser escapes from his cage.
Here's Serkis again introducing a clip where Caesar stares down Dodge (Tom Felton).
Caesar leads the apes into the streets of San Francisco.
A news helicopter catches the attack on the Golden Gate Bridge.
Here are the featurettes. These two are great just for Serkis alone.
The WETA team, director Rupert Wyatt and Serkis take you behind the scenes of the film.
Andy Serkis and director Ruper Wyatt explain how the digital apes were created.