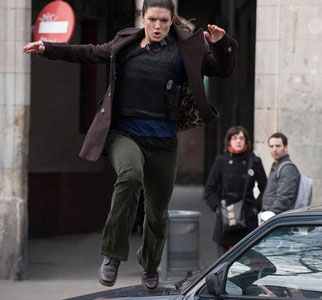 Yesterday, we posted the 1st 5 minutes of Steven Soderbergh's Haywire and today, we have 3 clips from the upcoming flick.
Starring Gina Carano, Michael Douglas, Ewan McGregor, Channing Tatum and Michael Fassbender, the film is about a female covert ops specialist. She works in the world of international operatives and strikes back after discovering she's been double-crossed by someone close to her in the agency.
 Check out the clips below! 
Kenneth (Ewan McGregor) convinces Mallory (Gina Carano) to go to Ireland
Mallory (Gina Carano) beats up a bad guy
Mallory (Gina Carano) talks to Kenneth (Ewan McGregor) on the phone