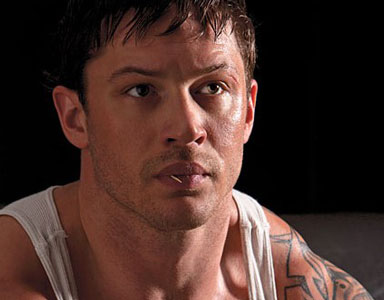 Warrior is a film that didn't do particularly well at the box office despite very positive reviews and the current popularity of Mixed Martial Arts.  Still, because of its critical acclaim there's definitely the potential of award season success that might lead to the film doing some better business down the road. 
In fact, at a screening at the Landmark Theater, director and co-writer Gavin O'Connor revealed an interesting tidbit about the film: despite Lionsgate wanting to cast stars for the lead roles to help the film's box office, O'Connor admits, "I didn't want to use movie stars for the two roles."
So how did O'Connor manage to cast non-American actors Tom Hardy and Joel Edgerton — who at the time of the film's production weren't nearly as popular as they are now — as Pittsburgh brothers Tommy and Brendan Conlon?  O'Connor knew it had to come out of an audition.  But Hardy, O'Connor's choice for Tommy, doesn't believe he is very good at auditioning.  Knowing that Lionsgate wouldn't consider Hardy without an audition, O'Connor explains that he took an interesting approach to practice for the audition.  He says, "He showed up on a Sunday night.  At midnight, there was a knock at my door … and he lived with me for five days. He did! He never left. And it was actually great because I got to know him."
Hardy obviously ended up nailing the audition, and although the film didn't make much money with Hardy and Edgerton in the leads perhaps O'Connor can win over award voters with his "How I Managed to Sneak One Past Lionsgate" screening tour.
Via Reuters.  Warrior will be released on DVD and Blu-ray on December 20.