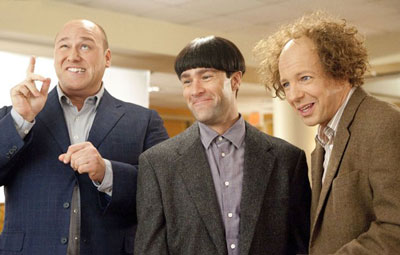 Here are 6 clips for the this weekends new Farrelly Brothers movie, The Three Stooges.
I missed the screening for this because I was in Florida visiting my parents but from what I hear, it's definitely not as bad as it looks.
Starring Sean Hayes, Will Sasso and Chris Diamantopoulos as Larry, Moe and Curly, the story follows the three as they try and save their childhood orphanage.
Check them out below!
Larry (Sean Hayes) flings a lobster
Moe (Chris Diamantopoulos) and company run from the police
Moe (Chris Diamantopoulos) and company pose for a picture
Moe (Chris Diamantopoulos) and company jump a priest
Mother Superior (Jane Lynch) finds three babies on her doorstep
Moe (Chris Diamantopoulos) and Curly (Will Sasso) fight over donuts