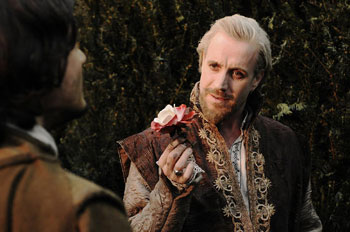 I just came back from a screening of Anonymous and while I'm embargoed on what I can say about it, I will say that Rafe Spall who plays William Shakespeare is someone you should put on your radar. 
In the horrible film, One Day, he was absolutely the best actor on-screen besting Anne Hathaway and Jim Sturges by a million miles. I actually wish the film focused on his character more. In Anonymous, you'll walk away wanting to see more also. Check out the 4th clip and you'll see what I mean.
If you don't know, the film is another theory on whether or not William Shakespeare actually wrote the plays he's been credited for. It also focuses on the politics of the time, illicit romances with the Royals and the schemes of greedy nobles who lust for power.
It stars Rhys Ifans, Vanessa Redgrave, Joely Richardson, David Thewlis and Spall and is directed by Roland Emmerich. Yup, Independence Day and Godzilla's Emmerich.
It'll be in theaters on October 28th.   
Queen Elizabeth (Vanessa Redgrave) is presented with a play
Edward de Vere (Rhys Ifans) orders Ben Jonson (Sebastian Armesto) to stage one of his plays as his own
Princess Elizabeth (Joely Richardson) talks about her love of the stage
William Shakespeare (Rafe Spall) really just wants to act
Ben Jonson (Sebastian Armesto) gets shot at