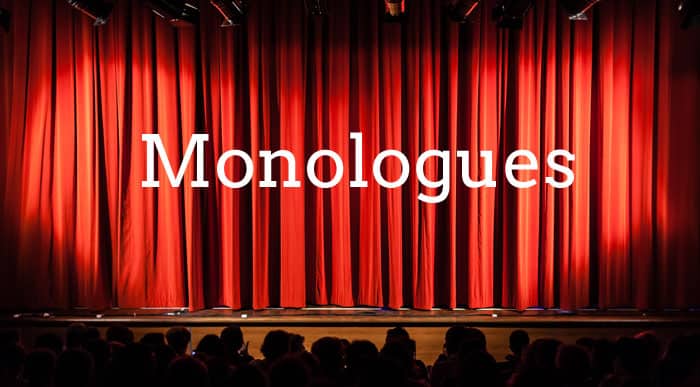 If you're like most actors, then it's probably safe to say you've done the 'crazy audition scramble' more than a couple of times. You have an audition and find out you need an audition piece, so you desperately start searching the internet and find a handful, but not one that really fits you. Well, we're here to help! We have a huge database that'll help you find one that is perfect for you!
Tips on Finding Monologues for Auditions:
Choose one that's right for you. Something that is age and gender appropriate. A piece that fits your "type" as an actor.
Keep it short! In most auditions, you'll only be performing for 1 or 2 minutes. A short piece is always best!
Pick something in the moment. Look for a piece where the character wants something from the other actor. Where you have an objective and where something is happening at that very moment.
Choose one that has an arc. Find a piece that has a clear beginning, middle and end. Tell a story and don't bore your audience!
Funny is best! When in doubt, always try and find something with humor in it. It doesn't have to be a flat-out comedy, but something where you can make someone smile, even in a dramatic piece is always recommended.
If you can, always read the full play or script! In some cases, I've added links to the full screenplay (if it's from a movie) or a link to Amazon where you can purchase the play. If it's a well-known play, you can even try and find it at your local library. Libraries are a great resource for finding plays!
Latest Contemporary Monologues