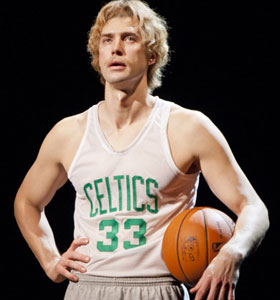 After their successful run of Lombardi, a play about the NFL's most legendary coach, producers Fran Kirmser and Tony Ponturo decided to tackle two icons from another sport in their next play: basketball icons Larry Bird and Magic Johnson, who engaged in one of sport's most talked-about rivalries during their playing careers. 
The relationship between the two men, both on-the-court and off-the-court, is the basis of the play Magic/Bird, starring Kevin Daniels as Johnson and Tug Coker as Bird.  Coker spoke to the Associate Press about what he brings to the role beyond his size.
For Coker, who grew up a Boston Celtics fan, playing Bird on stage is pretty close to his dream come true.  He says, "I never thought people would pay to come and see me play basketball." 
He knew his stature and childhood love of the sport made him the perfect fit for the role.  He points out, "It's not very often where you're doing a film or a play where it's like, 'You actually want this skill? I have that. I can do this! You're looking for me!'  So, for me, I was really excited to have the opportunity to tap back into something that I really grew up loving and really wanted to be."
Though Coker and Daniels needed to be a physical match for the roles — both are 6'5″ and have athletic builds — neither is a reject from a local basketball team trying to break into another career.  In fact, Coker was trained at the American Repertory Theater and Daniels went to The Juilliard School.  The 34 year-old Coker has previously appeared in over twenty television roles, including CSI: Crime Scene Investigation, Raising Hope, How I Met Your Mother and The Office.  Daniels has also appeared on television shows like Modern Family, but has also had roles in films like Ladder49 and The Island.  However Broadway is new to both of them — Coker has never been on Broadway before, while Daniels has only appeared on Broadway in a short-run 1998 revival of Twelfth Night.
As a result, both men did extensive research into their roles.  For example, Coker talked with Bird on the phone and visited his hometown.  When curious residents of French Lick, Indiana wondered how Coker would portray Bird, he answered, "Just relax. We've got wigs and mustaches coming in."
 Nonetheless, Coker realizes the challenge of a play based on a professional sport: there are both those familiar with the basketball Hall of Famers and others who know nothing of sports.  He explains, "The challenge for us I think is to give something new to people who know the story extremely intimately. And also entertain and educate and enlighten people who just come to see theater and don't know sports.  So we're walking a fine line."
Magic/Bird is now running at the Longacre Theatre.
via Yahoo!